<- Back
10859NAT CERTIFICATE IV IN WEIGHT MANAGEMENT
Speciality Classification
Allied Health
Duration
Self-Paced Study – up to 12 months
Provider
Australian College of Weight Management & Allied Health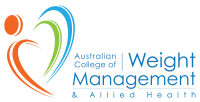 There are 11 units of competency in this course;
Work effectively in the weight management industry
Apply principles of psychology, mindset and behaviour modification to weight management
Develop meal plans in consultation with client
Make exercise recommendations for weight management in consultation with clients
Undertake initial weight management consultations
Undertake regular weight management consultations
Design, plan and deliver weight management clinics for groups
Work collaboratively with networks
BSBCMM 401 Make a presentation
BSBCUS 402 Address customer needs
BSBSMB 403 Market the Small Business
A detailed breakdown of lessons and course content is available upon request. Note: this accredited course requires the inclusion of the following superseded units; BSBCMM 401, BSBCUS 402 & BSBSMB 403.
Learning Outcomes
The 10859 NAT Certificate IV in Weight Management provides a holistic approach to weight management covering psychology and behaviour change, nutritional science and meal planning, and exercise science and programming. It incorporates latest scientific principles and research to enable graduates to develop individualised weight management programs for clients, based on their individual needs.
Graduates will be able to provide a range of programs and services including an understanding of psychology and the effect on behaviour, provision of appropriate meal plans and recommendation of exercise to create a weight management plan to achieve the adolescents' (13 – 17) and adults' (18+) weight management goals.
This qualification provides the skills and knowledge to be competent in a range of activities and functions within the weight management industry in a broad range of settings, including (where required for high risk clients) working collaboratively with appropriate medical and allied health professionals to help motivate and mentor adolescents 13 – 17 or adults 18+ to achieve their weight management goals.
Vocational outcomes
This course is intended to provide participants with a range of knowledge and skills to perform the following functions associated with the weight management industry:
Weight Management Practitioner
Nutritionist
Nutrition Advisor
Weight Loss Consultant
Motivational Weight Management Coach
Wellness Coach
Health Coach
General education outcomes
This course is intended to provide participants with the following general education outcomes:
Conducting individual and group consultations for the first time and over a period of time
Nutritional principles and meal planning to meet individual needs for weight management outcomes
Basic physiology and anatomy
Presentation skills
Assessing client needs
Analysing mindset and the effect on behaviour modification
Networking and working alongside appropriate medical and allied health care practitioners
Community outcomes
This course is intended to provide participants with the following skills and knowledge to contribute to community outcomes such as:
Consideration to the increasing prevalence of overweight and obesity
Creating a community awareness of the long term benefits of weight management
Improved community health
Reducing the cost of, and impact on, healthcare associated with obesity and weight related health issues
Improving workplace productivity and reducing associated costs with employee sick leave
Entrants to the qualification must:
have the ability to use computers, to email, send and write word documents and to use basic spreadsheets.
have access to the internet (whilst all of the learning materials can be downloaded via pdf, internet access would be required to download the documents and to upload assessments).
Title
10859NAT CERTIFICATE IV IN WEIGHT MANAGEMENT
Speciality Classification
Interest Areas / Topics Covered
Lifestyle and nutrition, Nutrition/weight management
Provider Type
Education Provider
Duration
Self-Paced Study – up to 12 months