<- Back
Acquired Brain Injury: Meeting wheeled mobility needs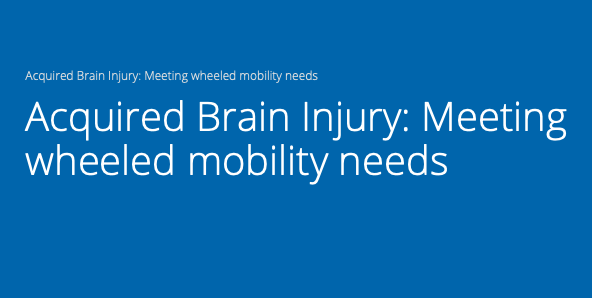 Speciality Classification
Occupational Therapists

(2 contact hours)
General Overview:
Functional mobility following an Acquired Brain Injury (ABI) varies significantly from person to person. The role of the clinical team, in conjunction with the client and family, is to establish a means of mobility that enhances independence and function. Often, this results in the need for a wheeled mobility device. While there is limited evidence available on the topic of wheeled mobility and ABI, it is clear that independent mobility is a predictor of quality of life post ABI. The team must maximize safe and efficient mobility, while considering the cognitive, visual, fatigue, and postural factors often present in this population.
This course will discuss wheeled mobility post ABI including common postural impairments, as well as safety and cognitive considerations. Manual wheelchair configuration for optimizing independent mobility in this population will be reviewed. Additionally, this course will discuss the necessity of introducing power assist and powered mobility options when an optimized manual mobility device is not efficient or functional for a client. Factors for determining safe and independent use of power mobility will be discussed including training strategies to maximize success when working with individuals with cognitive and visual deficits. Participants will leave the course with immediately applicable strategies for maximizing independence in functional mobility post ABI.
By the end of the presentation, participants will be able to:
Describe three common functional limitations that occur following Acquired Brain Injury (ABI)
Identify three common postural concerns in individuals with ABI
Describe at least two considerations when configuring a manual wheelchair for efficient propulsion and postural support following ABI
State three current perceptions related to prescribing power mobility for people with ABI, including Cerebral Vascular Accidents (CVA) and Traumatic Brain Injury (TBI)
Discuss two potential training techniques to allow for initiation of power mobility post-CVA
Title
Acquired Brain Injury: Meeting wheeled mobility needs
Speciality Classification
Interest Areas / Topics Covered
Disability, Neurosciences and Rehabilitation, Rehabilitation
Similar Listings
Posted By eIntegrity Healthcare e-Learning
Posted Date: 2021-01-26
Location:Online
Multi-professional training in child health The Healthy Child Programme is a high-quality learnin...
Posted By WA Occupational Therapy Association
Posted Date: 2020-12-26
Location:COMO WA 6152
About the Course Chronic pain management is a major and growing challenge for patients, healthcar...
Posted Date: 2020-12-14
Location:Online
Will assist occupational therapists to understand the challenges that children with FASD