<- Back
Advanced Certificate of Aesthetic Medicine
COURSE OVERVIEW

The Advanced Certificate of Aesthetic Medicine is designed to meet the needs of medical practitioners who are interested in increasing their clinical knowledge in aesthetic principles and the safe practice of latest evidence-based aesthetic medicine procedures. The two-day face-to-face course combines interactive lectures, case discussions, live demonstrations, and practical sessions. Topics covered include laser physics and laser safety, hair removal techniques, facial nerve blocks, management of vascular complications, use of botulinum toxin (including masseters, Nefertiti lift, bunny lines and gummy smile), dermal fillers for the cheeks, tear troughs, chin, jaw line and hand rejuvenation, selection of appropriate cosmeceuticals for various clinical conditions, marketing of the aesthetic services.

This course is the second part of the three-part Professional Diploma of Aesthetic Medicine. The education pathway is Professional Certificate of Aesthetic Medicine, Advanced Certificate of Aesthetic Medicine and Professional Diploma of Aesthetic Medicine.

ENTRY REQUIREMENTS AND COURSE REQUISITES

The Advanced Certificate of Aesthetic Medicine will meet the needs of medical professionals who are interested in enhancing their clinical knowledge in aesthetic principles and the safe practice of the latest evidence-based aesthetic medicine procedures. Ideal for practitioners who are considering working in the field, the course provides a new level of confidence and competence relevant to primary care, enabling participants to integrate cosmetic services into their day-to-day work. The course is suitable for general practitioners and International Medical Graduates. Participants must have completed the Professional Certificate of Aesthetic Medicine (or a qualification deemed equivalent) and HealthCert also recommends successful completion of at least 25 cases of aesthetic medicine prior to enrolment.

Recognition of Prior Learning

Professionally accredited qualifications and prior studies may be recognised for entry into this course. Please send an email to credit
healthcert.com for an individual assessment of your prior qualifications and experience. This email should contain information about your educational history and work experience that specifically pertain to the content and procedures covered in the Professional Certificate of Aesthetic Medicine. Please include any applicable certificates and course outlines from previous education. The relevant Course Chair will make a determination on your application within three working days.

COURSE CONTENTS

This Advanced Certificate course will provide the clinician with a range of skills including:
Laser physics and laser safety
Safe hair and tattoo removal techniques
Facial anatomy and implications for safe treatment
Nerve blocks and facial nerve anatomy
Vascular anatomy and management of complications
Botulinum toxin for the lower face
Dermal fillers for various anatomical sites
Cosmeceutical ingredients and their uses
Business plan for the set-up of an aesthetics clinic
Course participants will:
Observe experts performing Aesthetic Medicine techniques on a large screen with close-up camera
Perform aesthetic techniques in a simulated environment and receive feedback
Participate in online discussion of patient cases, evaluate and make decisions
Receive a comprehensive course folder and research/readings in the field
Receive complimentary access to Anatomedia, an online interactive learning program in anatomy, for eight weeks after attending the course, and benefit from a special rate for 12 months thereafter
Receive unlimited and ongoing access to free alumni learning resources, video lectures, and discussion forums, as well as invite-only events and special offers after completion of the course
Receive ongoing support post-course through webinars and case review
Have the opportunity to participate in optional clinical attachments at dedicated aesthetics clinics
COURSE OUTLINE Saturday
| | | |
| --- | --- | --- |
| Time | Session | Topic |
| 8:30am - 9:00am | Registration | |
| 9:00am - 10:30am | Session 1 | Skin ageing principles, conditions and problem solving |
| 10:30am - 11:00am | Morning Tea | |
| 11:00am - 12:30pm | Session 2 | Facial anatomy and implications for treatments |
| 12:30pm - 1:30pm | Lunch | |
| 1:30pm - 3:00pm | Session 3 | Botulinum Toxin: Review uses and allergic reactions |
| 3:00pm - 3:30pm | Afternoon Tea | |
| 3:30pm - 5:00pm | Session 4 | Peels: conditions and treatments |
Sunday
| | | |
| --- | --- | --- |
| Time | Session | Topic |
| 7:45am - 8:00am | Arrival | |
| 8:00am - 9:30am | Session 5 | Lasers: Hair and tattoo removal |
| 9:30am - 10:00am | Morning Tea | |
| 10:00am - 11:30am | Session 6 | Lasers: Vascular and pigment conditions |
| 11:30am - 12:30pm | Lunch | |
| 12:30pm - 2:30pm | Session 7 | Dermal fillers: revision and research |
| 2:30pm - 3:00pm | Afternoon Tea | |
| 3:00pm - 4:00pm | Session 8 | Business consideration for an Aesthetic Clinic |
MEET YOUR INSTRUCTORS

Our team of exceptional instructors consists of highly trained sub‐specialised general practitioners who have successfully incorporated aesthetic medicine services into their practice. You will have access to valuable 12 month web-based support with the opportunity to ask the instructors any questions you may have as you implement your learning.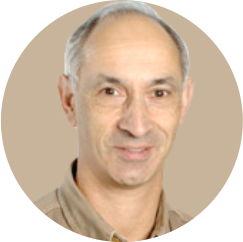 A/Prof Norman Eizenberg
MBBS, FRACS (Hon.)
Senior lecturer in anatomy, University of Melbourne
Project Leader of An
tomedia
Associate Professor, Department of Anatomy and Developmental Biology, Monash University
Head of Clinical Teaching and Supervision, Melbourne Clinical School, The University of Notre Dame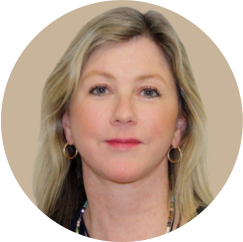 Dr Jenny Kimmins
MBBS, FRACGP, Dip. Derm
Fellow of the Cosmetic Physicians College of Australasia
Aesthetic Medicine Physician and Medical Director at Southern Cosmetics, Victoria
HealthCert Course Chair for Aesthetic Medicine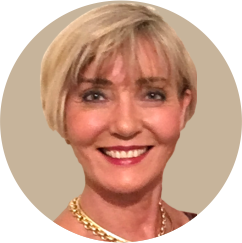 Dr Isabelle Jonsson-Lear
MBChB FRACGP FACCRM FACSCM FSCCA
Master degree in Primary Skin Cancer Medicine, The University of Queensland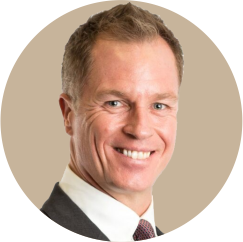 Dr Anthony Rixon

MBBS, FRACGP, MMed, DRCOG, B.Biomed.Sc

Medical Director, Main Street Cosmetic and Skin, Lilydale Victoria

BRISBANE 2 - 3 MARCH 2019

Brisbane Convention and Exhibition Centre

COURSE FEES AND PAYMENT OPTIONS
REGULAR TUITION FEE

Advanced Certificate

$3,195

Two-Course Bundle

$6,390

Three-Course Bundle

$9,585

Different payments options available.

EARLY BIRD RATE

Advanced Certificate

$2,995

Two-Course Bundle

$5,690

Three-Course Bundle

$7,995

Register 30 days prior to the course commencement date.

DEFERRED PAYMENT

Advanced Certificate

$845 x 4

Two-Course Bundle

$860 x 7

Three-Course Bundle

$930 x 9

Defer your payments over several months.
GP REGISTRARS: Doctors in training who are on a recognised pathway to General Practice Registration through a recognised training provider receive a HealthCert Scholarship.

COURSE DELIVERY AND ASSESSMENT

The Advanced Certificate of Aesthetic Medicine is designed as a face-to-face course that is supported by online materials. There are eight units in a HealthCert Advanced Certificate program. Course learning materials will be available for a minimum of 15 weeks. There will be pre-reading activities, an intensive weekend workshop with expert demonstrations and practical hands-on activities, online materials and further readings, individual assessment tasks and finally two online examinations.

In order to meet the requirements of professional and academic learning, the course assessment includes professional requirements and two online examinations.
Develop a one-page report/explanation of how you will use the learning from this course in your professional work.
Compile a report listing the resource materials that you have collected to advance and apply your knowledge.
Online assessment
104 knowledge questions based on a scenario of a medical practitioner undertaking special interest training.

13 per module
Example: The medical practitioner believes that 10% of the population … Is he correct? Yes/No
104 authentic scenario based questions based on cases of patient care at a clinic

13 per module
Example: A patient arrives at your clinic with this problem … What should you do? Multiple choice images based on patient cases.
The knowledge-based examination is worth 50 per cent and the application-based examination is worth 50 per cent. The overall pass mark is 80 per cent. It is therefore not possible to pass this course on knowledge alone. Knowledge must be successfully applied to patient cases in order to pass the course.

HealthCert recommends completion of the assessment at your convenience within three months of the completion of the course.

CERTIFICATION AND ACCREDITATION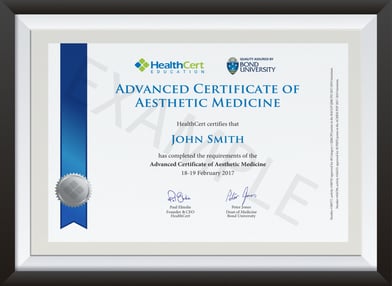 Upon successful completion of the exam course participants will receive the Advanced Certificate in Aesthetic Medicine and 40 RACGP Category 1 CPD points / 30 ACRRM PRPD points
RACGP: 40 RACGP Category 1 QI&CPD points
ACRRM: 30 ACRRM PRPD points
This certificate course:
Is recognised by Royal New Zealand College of General Practitioners (RNZCGP). The RNZCGP recognises all courses endorsed by the RACGP. Peer review and audit are compulsory.
Is quality-assured by Bond University.
Has been submitted to the American Academy of Anti-Aging Medicine. Doctors may join the academy, which has 26,000 physician and scientist members in more than 120 countries.