<- Back
Advanced Certificate of Aesthetic Medicine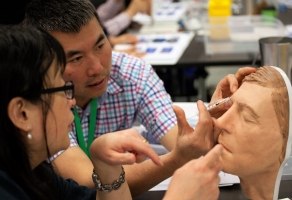 Speciality Classification
Medical Doctors
Location
Online with optional practical workshops in sydney, melbourne, brisbane, perth or adelaide
Duration
Start anytime online, learn at your own pace
The Advanced Certificate of Aesthetic Medicine is designed to meet the needs of medical practitioners who are interested in increasing their clinical knowledge in aesthetic principles and the safe practice of latest evidence-based aesthetic medicine procedures.
Topics covered in the course include laser physics and laser safety, hair removal techniques, facial nerve blocks, management of vascular complications, use of botulinum toxin (including masseters, Nefertiti lift, bunny lines and gummy smile), dermal fillers for the cheeks, tear troughs, and chin, jaw line and hand rejuvenation along with a selection of appropriate cosmeceuticals for various clinical conditions and marketing of the aesthetic services.
This course is the second part of the three-part Professional Diploma of Aesthetic Medicine. The education pathway is Professional Certificate of Aesthetic Medicine, Advanced Certificate of Aesthetic Medicine and Professional Diploma of Aesthetic Medicine.
This Advanced Certificate course will provide the clinician with a range of skills including:
Complications including relevant anatomy
Sclerotherapy*
Advanced Botulinum toxin techniques and hyperhidrosis*
Advanced dermal filler techniques*
Advanced chemical peels*
Laser use for hair and tattoo removal*
Laser use for vascular and pigment conditions*
Business strategies to set up an aesthetic practice
All topics are covered online and during the web live tutorials. *These topics are also covered during the hands-on practical sessions in the optional skills workshop. Course graduates also receive ongoing post-course support through regular alumni webinars.
The Advanced Certificate of Aesthetic Medicine comprises of three parts featuring 1) flexible online learning at your own pace, 2) interactive live web tutorials with additional content and demonstrations of procedures as well as 3) an optional small group practical workshop.
Inclusions
Certificate of completion
Title
Advanced Certificate of Aesthetic Medicine
Speciality Classification
Interest Areas / Topics Covered
-- GENERAL MEDICAL--, Cosmetic, Dermatology, Medical Education, Men's health, Plastic and|or reconstructive surgical, Women's health
Provider Type
Education Provider
Duration
Start anytime online, learn at your own pace
CPD Points
RACGP: CPD Accredited Activity 40 Points | ACRRM: PDP units: 22 Educational activity, 6 Performance review
Price Details
Special rates for bundle purchases and GP Registrars
Location
Online with optional practical workshops in sydney, melbourne, brisbane, perth or adelaide
Special rates for bundle purchases and GP Registrars