This post has expired! It was posted more than 90 days ago.
<- Back
Advanced Certificate of Men's Health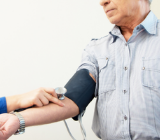 Speciality Classification
Medical Doctors
Duration
Start anytime, learn at your own pace
The online Advanced Certificate of Men's Health provides medical professionals with a robust understanding of men's health issues commonly seen in primary care. Delivered by leading experts, the program will enable you to better address your patients' concerns, exploring medical conditions pertinent to male patients such as penile conditions, fertility, testicular and male breast cancer, hair loss, genital inflammatory dermatoses, androgen deficiency, dementia, cardiovascular health, and weight control.
The gender-specific health needs of men are a significant part of day-to-day work in general practice. In Australia, men are generally less healthy than women and have a lesser life expectancy. Three quarters of Australian men are overweight or obese, and half of all men have chronic disease. More than half drink alcohol excessively, and the leading cause of death among Australian males is cardiovascular disease. It is therefore crucial that primary care physicians have the necessary skills to address common concerns among their male patients, improving outcomes and saving lives.
Many men do not report their health problems or seek treatment, neglecting to manage serious health concerns unless they have a long-lasting relationship built on trust with a medical practitioner who understand their needs. A more "male friendly" GP can develop a stronger rapport with their male patients to uncover and treat any health problems.
Penile conditions and fertility check
Testicular cancer and male breast cancer
Male hair loss and genital inflammatory dermatoses
Androgen deficiency
Dementia in men
Cardiovascular health and weight control in men
Male anatomy and clinical problems
GP cases in men's health: Common conditions
Course participants will:
Have the opportunity to replay video lectures from medical experts.
Participate in discussion of patient cases, evaluate and make decisions.
Receive access to research/readings in the field.
Participate in course webinar prior to the examinations and ask questions.
Receive ongoing support post-course through webinars and case review.
Receive unlimited and ongoing access to free alumni learning resources, video lectures, and discussion forums, as well as invite-only events and special offers after completion of the course.
Inclusions
Certificate of completion
Title
Advanced Certificate of Men's Health
Speciality Classification
Interest Areas / Topics Covered
Abuse and Violence, Cancer, Fertility, Family planning/birth control, Medical Education, Mental Health, Men's health, Sexual health
Provider Type
Education Provider
Duration
Start anytime, learn at your own pace
CPD Points
RACGP & ACRRM points pending
Price Details
Special rates for bundle purchases and GP Registrars