<- Back
ADVANCED CERTIFICATE OF SKIN CANCER SURGERY
COURSE OVERVIEW

The Advanced Certificate of Skin Cancer Surgery will teach you how to surgically remove skin cancers from anatomically complex and cosmetically sensitive areas with optimal scarring results. This highly practical course is led by noted skin cancer doctors and a team of experienced GPs to assist you in your practice. The program covers surgical procedures for the face and neck, rhomboid flaps on the cheek, peri-orbital reconstruction on the lower eyelid, rotation flaps on the scalp, and closures of lip defects.

ENTRY REQUIREMENTS AND COURSE REQUISITES

The Advanced Certificate of Skin Cancer Surgery is ideal for medical professionals with a special interest in skin cancer medicine and who wish to treat more complex skin cancer cases. Participants will learn how to provide their patients with optimal scarring results, through learning and honing surgical techniques applicable to scenarios commonly seen in primary care. Participants can expect to reduce their referral rates as they gain invaluable practical experience that enables them to do more skin-related surgery in day-to-day work. The course is suitable for general practitioners and International Medical Graduates. Participants must have completed the Professional Certificate of Skin Cancer Surgery (or a qualification deemed equivalent).

Recognition of Prior Learning

Professionally accredited qualifications and prior studies may be recognised for entry into this course. Please send an email to credit
healthcert.com for an individual assessment of your prior qualifications and experience. This email should contain information about your educational history and work experience that specifically pertain to the content and procedures covered in the Professional Certificate of Skin Cancer Surgery. Please include any applicable certificates and course outlines from previous education. The relevant Course Chair will make a determination on your application within three working days.

Automatic credit entry to this course is granted for doctors who have completed module 5 (and prerequisite module 4) of the RACGP Certificate in Primary Care Dermatology.

Professionally accredited qualifications and prior studies may be recognised for entry into this course. Please ask a HealthCert Education Advisor for an individual assessment of your prior qualifications and experience.

COURSE CONTENTS

The course provides advanced training in skin cancer surgery and teaches various techniques allowing GPs to treat more complex cases in the primary care setting. The program includes practical surgery sessions. Our team of surgical assistants will guide and support you as you practise the various surgical techniques.

The theory and practical sessions cover:
Anatomy of the head, neck, nose, lip, eyelid, ear, and upper and lower limbs
Advancement flaps and rhomboid flaps on the face
Rotational flaps in closure of scalp, cheek and distal limb defects
Full thickness and split thickness grafts on the face and lower limb defects
Closure of ear defects with flaps, grafts and wedges
Closure of upper lip and lateral nose defects with advancement, rhomboid and V-Y flaps
Course participants will:
Observe experts performing skin cancer surgery techniques on a large screen with close-up camera
Perform surgical techniques in a simulated environment and receive feedback
Participate in online discussion of patient cases, evaluate and make decisions
Receive a comprehensive course folder and research/readings in the field
Receive unlimited and ongoing access to free alumni learning resources, video lectures, and discussion forums, as well as invite-only events and special offers after completion of the course
Receive ongoing support post-course through webinars and case review
Have the opportunity to participate in optional clinical attachments at dedicated skin cancer clinics
COURSE OUTLINE Saturday
| | | |
| --- | --- | --- |
| Time | Session | Topic |
| 8:15am - 8:45am | Registration | Sign in and collect your lanyard |
| 8:45am - 10:15am | Session 1 | Ellipses and suture techniques revisited |
| 10:15am - 10:45am | Morning tea | |
| 10:45am - 12:15pm | Session 2 | Advancement flaps |
| 12:15pm - 1:15pm | Lunch | |
| 1:15pm - 2:45pm | Session 3 | The rhomboid flap |
| 2:45pm - 3:15pm | Afternoon tea | |
| 3:15pm - 4:45pm | Session 4 | The rotation flap |
Sunday
Time
Session
Topic
7:45am - 8:00am
Arrival
Sign-in
8:00am - 9:30am
Session 5
Grafts
09:30am - 10.00am
Morning tea
10:00am - 12:00pm
Session 6
V-Y flaps
Application of flaps
12:00pm - 1:00pm
Lunch
1:00pm - 2:30pm
Session 7
Wedges: lip and ear
2:30pm - 3:00pm
Afternoon tea
3:00pm - 4:00pm
Session 8
Anatomy, tips and techniques
MEET YOUR INSTRUCTORS

This practical course is led by noted skin cancer doctors and a team of experienced GPs to assist in the delivery of outstanding learning outcomes.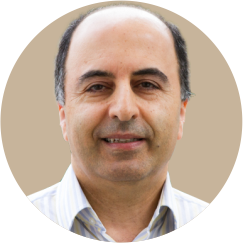 Dr Anthony Azzi
MBBS, MMed (Skin Cancer)
Senior Lecturer, The University of Queensland
Director at Newcastle Skin Check, Charlestown NSW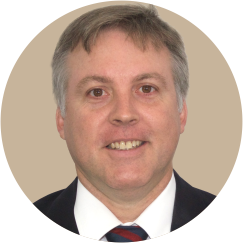 Dr Alister Lilleyman
MBBS, MMed (Skin Cancer), FSCCA
Senior Lecturer, The University of Queensland
Skin Cancer Doctor at Newcastle Skin Check, Charlestown NSW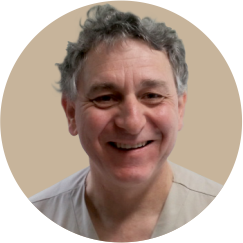 Dr Victor Harling

MBBS

Skin Cancer Doctor, National Skin Cancer Centres, Redcliffe

PROGRAM FEES AND PAYMENT OPTIONS
REGULAR TUITION FEE

Advanced Certificate

$3,195

Two-Course Bundle

$6,390

Three- Course Bundle

$9,585

Different payments options available.

EARLY BIRD RATE

Advanced Certificate

$2,995

Two-Course Bundle

$5,690

Three-Course Bundle

$7,995

Register 30 days prior to the course commencement date.

DEFERRED PAYMENT

Advanced Certificate

$845 x 4

Two-Course Bundle

$860 x 7

Three-Course Bundle

$930 x 9

Defer your payments over several months.
GP REGISTRARS: Doctors in training who are on a recognised pathway to General Practice Registration through a recognised training provider receive a HealthCert Scholarship.

COURSE DELIVERY AND ASSESSMENT

The Advanced Certificate of Skin Cancer Surgery is designed as a face-to-face course that is supported by online materials. There are eight units in a HealthCert Advanced Certificate program. Course learning materials will be available for a minimum of 15 weeks. There will be pre-reading activities, an intensive weekend program with expert demonstrations and practical hands-on activities, online materials and further readings, individual assessment tasks and finally two online examinations.

In order to meet the requirements of professional and academic learning, the course assessment includes professional requirements and two online examinations.
Develop a one-page report/explanation of how you will use the learning from this course in your professional work.
Compile a report listing the resource materials that you have collected to advance and apply your knowledge.
Online assessment
104 knowledge questions based on a scenario of a medical practitioner undertaking special interest training.

13 per module
Example: The medical practitioner believes that 10% of the population … Is he correct? Yes/No
104 authentic scenario based questions based on cases of patient care at a clinic

13 per module
Example: A patient arrives at your clinic with this problem … What should you do? Multiple choice images based on patient cases.
The knowledge-based examination is worth 50 per cent and the application-based examination is worth 50 per cent. The overall pass mark is 80 per cent. It is therefore not possible to pass this course on knowledge alone. Knowledge must be successfully applied to patient cases in order to pass the course.
HealthCert recommends completion of the assessment at your convenience within three months of the completion of the course.
What you get for your one-off investment
Online pre-course activity (to be completed in your own time prior to the program component).
Two-day practical program including catering.
All materials including surgical instruments and consumables for practical sessions.
Full-colour workbook including all presentation slides.
CPD points (see below for details).
CERTIFICATION AND ACCREDITATION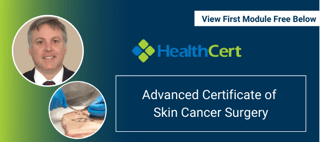 Upon successful completion of the course requirements, course participants will receive the Advanced Certificate of Skin Cancer Surgery. Both the Saturday and Sunday components of this course have been applied for the Training Grant for Rural and Remote Procedural GPs Program (Procedural Grant Program).
RACGP: 40 Category 1 QI&CPD points
ACRRM: 30 PRPD + 30 Surgery MOPS points
This certificate course:
Is recognised by Royal New Zealand College of General Practitioners (RNZCGP).
Is accredited by the Skin Cancer Institute (SCI) and may be used as part of an application for Certified Skin Cancer Doctor credentials.
Has been collaboratively designed with, and is annually reviewed by, Professor David Wilkinson, Deputy Vice Chancellor at Macquarie University.
Qualifies for a Skin Cancer Surgery Clinical Attachment in France at the University of Lyon.
Qualifies for a Skin Cancer Surgery Clinical Attachment in Austria at the University of Vienna.
Has been independently developed with subject specialists and does not receive education grants from any pharmaceutical company.