This post has expired! It was posted more than 90 days ago.
<- Back
Advanced Workshop of Non-Scalpel Vasectomy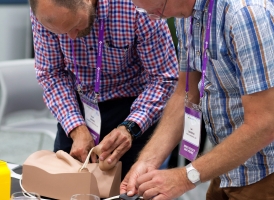 Speciality Classification
Medical Doctors
Location
short practical workshops Available in Sydney, Melbourne, Brisbane, Perth or Adelaide
Time / Duration
One-day workshops
The Advanced Workshop of Non-Scalpel Vasectomy provides an introduction to this advanced procedure for permanent male fertility control. This practical workshop is ideal for experienced doctors who regularly perform advanced clinical procedures or who already provide traditional vasectomies to their patients, but would like to learn the non-scalpel procedure. Upon completion of the workshop, HealthCert recommends further clinical training for doctors without prior experience in the field, to ensure patient safety and for medico-legal purposes.
The only one of its kind, this program will teach what equipment is necessary to achieve the best outcomes for your patients, with the opportunity to practise the procedure on simulated models and enable you to seriously consider this advanced procedure for your practice. The program will also provide a valuable insight into the safety guidelines you need to know to avoid complications and demonstrate how to plan patient counselling with an analysis of patient case scenarios.
Determining the correct steps in the process of non-scalpel vasectomy procedures
Recognising the safety rules to avoid complications in non-scalpel vasectomy procedures
Determining the necessary equipment for non-scalpel vasectomy procedures
Planning patient counselling
Analysing patient case scenarios
Inclusions
Certificate of completion
Title
Advanced Workshop of Non-Scalpel Vasectomy
Speciality Classification
Interest Areas / Topics Covered
-- GENERAL MEDICAL--, Fertility, Family planning/birth control, Medical Education, Men's health, Reproductive health, Surgery clinic/minor surgery, Surgical
Provider Type
Education Provider
Time / Duration
One-day workshops
CPD Points
RACGP: CPD Accredited Activity 40 Points | ACRRM: PDP units: 14 Educational activity, 3 Performance review, 5 MOPS points
Location
short practical workshops Available in Sydney, Melbourne, Brisbane, Perth or Adelaide