<- Back
Age-Related Macular Degeneration for Primary Eyecare Practitioners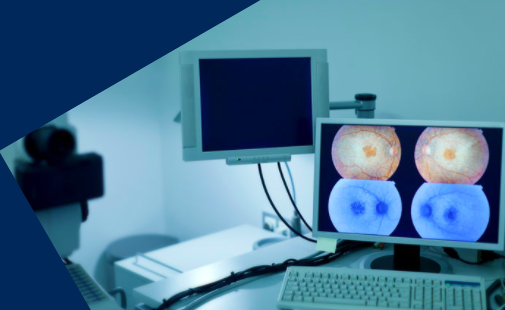 Speciality Classification
Optometrists
Duration
10 hours of eLearning
Overview

This e-learning course has been specifically designed for primary eyecare practitioners, and is written by world-leading experts in ophthalmology, optometry, anatomy, physiology and evidence-based medicine.

There have been significant advances in the diagnosis and management of age-related macular degeneration (AMD) in the past few years. AMD is the most common cause of vision impairment in people over the age of 50 years, affecting almost 200 million people worldwide. Primary health practitioners, such as optometrists, are often the first professionals to detect the signs and symptoms of AMD. As such, it is essential that they are up to date with the latest information on imaging biomarkers, risk prediction and management of people with AMD.

This e-learning course provides an evidence-based update for practicing clinicians, trainees and students. The course will upskill you on the use of new imaging tools, the interpretation of novel clinical biomarkers, and the use of visual assessments in the clinic. It will focus on improving your patient management, including information on how to advise people with AMD on the newest emerging treatments and technologies that could improve their quality of life.

A series of case studies are included to demonstrate the ways in which new research knowledge can be easily and directly translated into clinical care. In addition to the course content, there will be an opportunity to ask questions of world-leading experts in AMD.

DESIGNED FOR

This course is suitable for primary eyecare practitioners, particularly optometrists. It may also be of interest to general practitioners, ophthalmic nurses and orthoptists.

LEARNING OUTCOMES
Learn the latest imaging biomarkers for the detection and monitoring of age-related macular degeneration (AMD), specifically using optical coherence tomography.
Understand the latest theories on the pathogenesis of AMD, and the correlations between clinical signs and symptoms and retinal changes evident on histopathology.
Use evidence-based guidelines for the assessment and management of AMD.
Be able to interpret ocular images to determine individual risk profiles and best management strategies and counselling for patients.
Develop an understanding of current and emerging treatments for early stages of disease, as well as late-stage AMD, including anti-VEGF injections, stem cells and gene therapy.
COURSE UNITS

Tutorial 1: Introduction to AMD
Tutorial 2: Histopathology and Pathogenesis of AMD
Tutorial 3: Classification of AMD Using Multimodal Imaging
Tutorial 4: Functional Assessment in AMD
Tutorial 5: Non-Neovascular AMD
Tutorial 6: Neovascular AMD
Tutorial 7: Differential Diagnoses of AMD
Tutorial 8: Future Directions and Other Resources

DELIVERY MODE

Course completion requires approximately 10 hours of eLearning.

Participants have the flexibility to study in their own time and location. Program materials can be accessed through the eLearning Education app on mobiles and tablets with iOS, Android or Windows systems. Program materials can also be accessed using a web browser.

COURSE LEADERS

Prof. Robyn Guymer

MBBS, PhD, FRANZCO, FAHMS

Professor Guymer is the Deputy Head of Ophthalmology at the University of Melbourne, Deputy Director of the Centre for Eye Research Australia, and a senior retinal specialist at the Royal Victorian Eye and Ear Hospital. She is one of the top 10 experts on age-related macular degeneration in the world, leading a large research team and having published over 300 papers in the field. She has been awarded the 2016 NHMRC Elizabeth Blackburn Fellowship (top-ranked female clinical fellowship application in Australia), is an inaugural fellow of the Australian Academy of Health and Medical Sciences and was awarded a Member of the Order of Australia AM for her services to medicine in 2018.

Dr Lauren Ayton

BOptom, GCOT, PhD, FAAO, FACO

Dr Ayton is a Senior Research Fellow in the Departments of Optometry and Vision Sciences, and Surgery (Ophthalmology) at the University of Melbourne. She is the Head of the Vision Optimisation Unit and has an international reputation in the development of patient outcome measures in ophthalmology trials and age-related macular degeneration. Dr Ayton holds an NHMRC Next Generation Clinical Researcher Fellowship (2019 – 2021) and is also a University of Melbourne Driving Research Momentum Fellow (2019 – 2024). Dr Ayton is passionate about research translation and innovation and is also the Director of SPARK Melbourne (a biotech and pharmaceutical incubator at the University of Melbourne).

ACCREDITATION

This course is accredited for 20 CPD points.
Price: $150.00
Student Discounted Fee: AUD $99 (incl. GST)
Similar Listings
Posted By Optometry Australia
Posted Date: 2020-11-10
Location:Online
How the growing community demand for improved flexible working arrangements will impact optometry