This post has expired! It was posted more than 90 days ago.
<- Back
ASMIRT 2023 Conference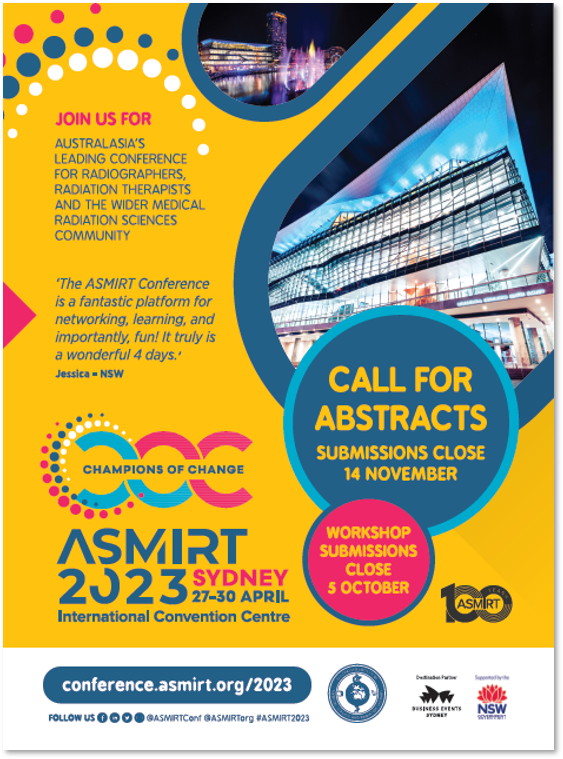 Speciality Classification
Radiology
Provider
Australian Society of Medical Imaging and Radiation Therapy
Call for workshop and abstract submissions
Workshop and abstract submissions are now open. You are invited to submit your workshop proposals and abstracts for consideration for oral and poster presentations at ASMIRT 2023, to be held in Sydney from 27 – 30 April 2023. All Medical Radiation Professionals and students are encouraged to participate, the closing dates are as follows:
Workshop submissions close 5 October 2022
Abstract submissions close 14 November 2022
The theme for this year's Conference is Champions of change – Honouring the past | Embracing the present | Shaping the future.
We are looking for you, our current and future champions, to submit workshop proposals and abstracts. The conference will comprise an engaging program including a mixture of invited speakers, proffered papers, vibrant physical posters, specialised workshops and so much more.
Honour the past by sharing previous learnings and knowledge and how they still relate to current practice
Embrace the present by networking, collaborating and reconnecting with your peers and others in the profession
Shape the future by sharing your latest research and workplace protocols, professional standards and ongoing improvement of practice and person centred care across our profession.
Title
ASMIRT 2023 Conference
Speciality Classification
Interest Areas / Topics Covered
Medical Imaging