<- Back
BASIC LASER SAFETY Online Surgical & Operating Suite (Industry Endorsed)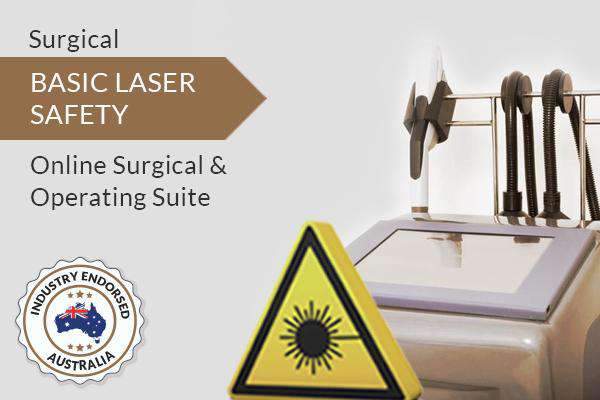 Speciality Classification
Nurses and Midwives
Provider
Bravura Education

Across IT
Do you work in or are responsible for an operating suite or other clinical environments that uses lasers (urology, ENT, gynaecology, ophthalmology, neurology)? Then this laser safety course provides a basic understanding of the operation and hazards of lasers.
If you have more responsibility with regard to lasers such as operating/adjusting settings on the machinery, auditing or clinical governance (i.e. surgeon, laser nurse, laser operator, Laser Safety Officer) then the Laser Safety Officer's Course is recommended for you.
COURSE CONTENT
Light physics and the operation of lasers
Interaction of laser radiation with tissue
Hazards of surgical lasers
Laser safety and the role of the laser operator/nurse.
LASER HAZARDS
Laser-tissue interactions
Particular hazards of delivery systems
Ocular and skin hazards
Patient-specific hazards
Reflected beam hazards
Laser plume hazards
Hazards related to anaesthesia and management of the shared airway
Fire, explosion, electrical and environmental hazards.
EXPECTED LEARNING OUTCOMES
RECOGNISE THE OPERATIONAL CHARACTERISTICS OF LASERS
Generation of the laser beam and propagation of light
Characteristics of the laser beam
Properties of different types of lasers
Optical pathways, delivery systems and applicators
Laser controls, e.g. power/pulse/time settings, emergency control and delivery systems.
RECOGNISE AND MITIGATE FOR LASER HAZARDS
Laser tissue interactions
Ocular safety
Reflection
Laser-generated airborne contaminants (Plume).
HAVE A BASIC UNDERSTANDING OF THE PRINCIPLES AND PROCEDURES FOR SAFE LASER USE
Laser controlled areas— warning signs, entry controls, control of access to the laser
Flammability hazards and fire safety
Roles and responsibilities of theatre staff when lasers are in use
Care of the patient in the operating theatre.
Prerequisites
Currently working in a perioperative environment or planning to do so.
Accreditation
Queensland Radiation Health Department Approval ED252
This laser safety course meets four hours of continuing professional development (CPD) when applied according to relevant AHPRA guidelines. Continuing professional development is the means by which members of the profession maintain, improve and broaden their knowledge, expertise and competence, and develop the personal and professional qualities required throughout their professional lives.
Who is it for?
Any perioperative staff who are in contact with lasers.
Investment of time
Four hours at your own pace, in your own time and you can take as long as you like. Assessment is a one hour, online, open-book exam.
Title
BASIC LASER SAFETY Online Surgical & Operating Suite (Industry Endorsed)
Speciality Classification
Interest Areas / Topics Covered
Perioperative
Provider Type
Education Provider