This post has expired! It was posted more than 90 days ago.
<- Back
Case Management Certificate of Dermoscopy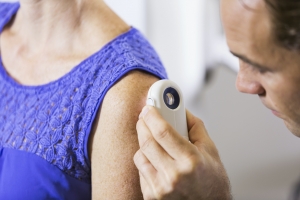 Speciality Classification
Medical Doctors
Time / Duration
Online (start anytime, learn at your own pace)
The Case Management Certificate of Dermoscopy is designed for medical practitioners who wish to improve their diagnostic accuracy using dermoscopy. Facilitated entirely online with personal 1:1 mentorship from dermoscopy expert A/Prof Andreas Blum, there is an opportunity to consider and interpret dermoscopic images and then receive feedback and elaboration on features and indicators within the image.
This mentorship program is tailored to help you distinguish, critically examine and document key features of dermoscopic images using medical reasoning. The learnings can be applied in everyday practice for the faster and more accurate diagnosis of skin lesions, for the betterment of your patients.
CASE MANAGEMENT MENTORING PLAN
Step 1: Download dermoscopic images from eLearning
Step 2: Analyse and reflect on the images and what they show
Step 3: Prepare a written explanation of the key features seen in each image and where they can be seen, using at least one diagnostic algorithm
Step 4: Provide a diagnosis for each case and provide medical reasoning based on the information provided with each image
Step 5: Receive and review comments and feedback from your mentor, a dermoscopy expert
Step 6: Reflect on the feedback and ask for clarification if anything is unclear; further examples may be provided
Step 7: Document what you have learned about diagnosis using dermoscopic images through this program
Learning outcomes:
Distinguish and document key features of dermoscopic images.
Demonstrate medical reasoning for diagnosis using dermoscopic images.
Critically examine dermoscopic images and evaluate them.
Document what has been learned from 1:1 mentoring with a dermoscopy expert.
Inclusions
Certificate of completion
Title
Case Management Certificate of Dermoscopy
Speciality Classification
Interest Areas / Topics Covered
Cancer, Dermatology, Medical Education, Skin cancer detection/mole scan/total skin check, Skin Cancer and the MBS, Pathology
Provider Type
Education Provider
Time / Duration
Online (start anytime, learn at your own pace)