<- Back
CPR Course – HLTAID009 Provide Cardiopulmonary Resuscitation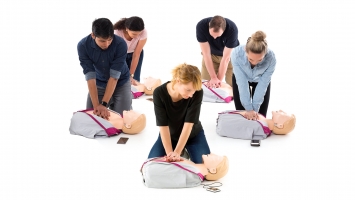 Speciality Classification
Allied Health
Time / Duration
1 Day with pre online study
Provider
Alpha Beta College Australia

CPR First Aid course, this unit of competency describes the skills and knowledge required to provide Cardio Pulmonary Resuscitation (CPR).
CPR course is suitable for people who need to conduct annual refresher training, maintain workplace skills or those who simply want to be equipped with a critical life saving skill.
CPR course will equip individuals with the knowledge and skills required to manage a life-threatening emergency and deliver rescue breathing and cardiopulmonary resuscitation to a person with no signs of life.
You will also learn how to use an Automated External Defibrillator (AED) and Personal Protective Equipment including disposable face shields.

Overview
The theoretical knowledge and practical skills required to respond to breathing and cardiac emergencies.
Pathways
Learners who complete this course may wish to complete HLTAID002 – Provide basic emergency life support and/or HLTAID011 – Provide first aid
Duration & Srtructure
This course is a mix mod delivery course. Online theory and face to face class environment.
You must complete your online theory component prior to attending face to face class. Theory workbook will be sent to you electronically upon enrolment. Face to face classroom-based learning practical session is for at least 3 Hours in our training venue in Sydney Parramatta NSW.
Duration
1 Day with pre online study
Available Times
10:00 to 13:00
For course booking DATES please check our BOOK NOW page for next available course date.
Award
Upon successful completion of the course candidates will be awarded a Statement of Attainment for the Unit of Competency HLTAID009 Provide Cardiopulmonary Resuscitation. The Australian Resuscitation Council recommend you refresh CPR every 12 months
Entry Requirements / Prerequisites
There are no formal entry requirements for this course, however it is expected that students have good communication skills, the ability to follow instruction and deal with stressful, confronting situations.You must complete a Language, Literacy and Numeracy (LLN) test online prior to enrolling, this is to determine if you have the necessary skills to successfully complete training without being disadvantaged. This must be completed prior to attempting your online assessment. The LLN test will be sent to you as a link along with the assessment. Please complete this prior to attempting the assessment.

You must complete the electronic theory component and LLN test at least 48 hours prior to attending your practical training day, which includes reading learning material and completing assessment questions. Do not skip components of the learning material, you must read each section as this is important fundamental learning. If you have not completed and submitted the LLN test and the assessment prior to the practical training day, you will not be admitted to class. There are no exceptions to this rule. The reading and assessment will take between 3-4 hours to complete depending on your skill level. On enrolment, you will be given access to the student portal via an email link to access your materials.

This course is about dealing with real life situations that may involve you and close family or friends. The training will expose you to conditions and scenarios that could be confronting to some. So, we ask that you come prepared to face situations which can be challenging for some. we recommend candidates to be age of 15 and over.

The practical components, particularly CPR, now require a candidate to perform two (2) minutes of uninterrupted CPR on an adult and infant manikin on the floor in a kneeling position so clients need to be advised that they may find this difficult if they have problems physically with their knees.
Students under the age of 18 years will be required to provide a signed parental consent form prior to attending the course.
Title
CPR Course – HLTAID009 Provide Cardiopulmonary Resuscitation
Speciality Classification
Time / Duration
1 Day with pre online study