<- Back
Creative Ways to Help Children Manage Emotions Online Course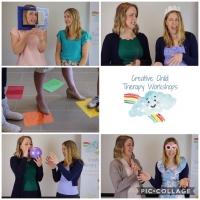 Speciality Classification
Allied Health
Provider
Creative Child Therapy Workshops

Our Creative Ways to Help Children Manage Emotions workshop is also available online! This is a self-paced course that provides therapists with over 40 fun and engaging activities that can be used with children and families. The course covers essential developmental considerations in providing therapy to children, and many practical ideas that therapists can use with children who are struggling with anxiety, anger and sadness.
In this course, you will
Learn how to make therapy playful and purposeful
Learn how to use everyday items, like textas, paper, cardboard rolls and coins to help children explore feelings
Learn how to work well with both younger and older children (aged 4-12 years)
Learn how to actively engage parents in therapy
If you prefer in-person workshops, this course is also available as a live workshop which we offer in several Australian cities.
You will receive
About 10 hours of CPD including over 6 hours of course videos accessible for 6 months.
A copy of our book, 'Creative Ways to Help Children Manage Big Feelings: A Therapists' Guide to Working with Preschool and Primary Children' (ebook format; rrp A$47.99)
A downloadable workbook, with space for engagement with the course, participant activities, additional therapy activity write-ups, further resources and articles.
Presentation slides to download.
Cost
Australian residents can choose to receive a hard copy of our book instead of the ebook for an additional A$20 for postage and handling.
If you have a group of 5 or more please contact us to arrange a discount
Who is this online course for
This course is for therapists who work with children and families. This includes psychologists, social workers, counsellors, occupational therapists, speech therapists, and other mental health clinicians. The course provides a solid grounding in child work and is suitable for therapists are new to this area. More experienced therapists will enjoy the practical focus and the opportunity to learn new, creative ideas and activities to integrate into their work right away.
Title
Creative Ways to Help Children Manage Emotions Online Course
Speciality Classification
Interest Areas / Topics Covered
Children and young peoples health, Mental Health
Provider Type
Education Provider
CPD Points
About 10 hours of CPD