<- Back
David Kessler on Healing Grief & Loss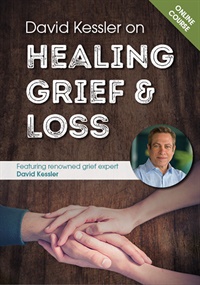 Speciality Classification
Allied Health
Duration
8 Hours 18 Minutes
In David Kessler on Healing Grief and Loss, you'll explore:
The dynamics of different types of grief and the healing processes associated with each
Age-appropriate grieving milestones that occur across the lifespan
The somatic responses to grief, and how to identify and manage residual grief in the body
Why children are often the "forgotten grievers," and strategies that can help this population
The effectiveness of positive psychology interventions in treating grief
The relationship between traumatic events and grief as it relates to the healing process
And SO much more!
To give you a comprehensive overview of these treatments methods and guidelines, David Kessler takes you through 13 unique and fascinating modules:

MODULE #1: How Death Shapes Each Type of Grief
Delayed
Disenfranchised
Ambiguous
Inconclusive
Complicate d
Average response
Resilience
MODULE #2: Trauma
How we often re-traumatise ourselves in grief
Discover the difference between releasing grief and replaying traumatic events
How vicarious trauma can affect the clinician
MODULE #3: Positive Psychology and Grief
Understand how positive psychology can be used in healing grief
Understand why clients may treat themselves harshly in grief
Discover new ways to decrease suffering after a loss
MODULE #4: Anticipatory Grief
Discover treatment strategies that work
Learn how to use certain tools to help normalise anticipatory grief for your clients
Instead of asking, "How are you?" ask this question instead…
MODULE #5: The 5 Stages of Grief and How They Influence Our Healing After Loss
Review of the 5 stages
Explore the 6th stage of death and grieving
Recognise distinctions between depressive grief and clinical depression
Discover how the emotion of relief has its place in the grieving process
MODULE #6: Death and the Afterlife
The cultural meaning of angels in society as well as in death and dying
How Christian interpretations of the afterlife can influence your clients
How to handle clients who may be "haunted" by their loved ones
What are "deathbed visions" and how they differ from hallucinations
How the law validates the visions and declarations of the dying
MODULE #7: Grief and Forgiveness
Explore alternatives to forgiveness
Understand when forgiveness works and why it doesn't
Discover techniques your clients can use to truly find forgiveness
MODULE #8: Tools for the Clinician to Help Clients Cope
How to handle ALL the holidays, not just Thanksgiving and Christmas
What to do when anniversaries of diagnosis, death, first wedding anniversary after death, etc. arise
How to handle other milestones, like birthdays
How your clients can renew their intimate lives after loss
Helping your clients find "closure"
Discover the best—and worst—things to say to someone in grief
How to avoid putting your clients on a timeline of grief
MODULE #9: Children in Grief
Discover tools for preparing children for loss
How to help kids participate in rituals of death and mourning
Understand normal grieving behaviour in children
MODULE #10: Pet Loss
Learn why pet loss is just as significant as other losses
Understand why clients may not reveal loss of a pet
Discover new ways to help with feelings of exaggerated responsibility
MODULE #11: Self-Care for Clinician Working with Loss
Discover how to take care of yourself when you're surrounded by loss
Understand why clinicians sometimes over-identify with clients
How to determine when it's helpful to disclose your own personal losses
MODULE #12: Complicated Grief
Simplifying the model for greater understanding
How complicated grief differs from uncomplicated grief
How things like multiple losses, sudden death, Alzheimer's disease, and other factors can complicate grief—and how to help your clients manage them
MODULE #13: The Grief of Suicide
Understand how grief of suicide is different
Discover techniques for releasing feelings of responsibility
Tools for healing grief after a suicide
Not only will you discover these new methods and ideas, but in the course, David Kessler provides additional resources on these topics.

Plus, once you complete this course, you'll have the opportunity to list yourself in a respected database of qualified grief counsellors—completely FREE.

The most advanced training on grief and grieving can be yours today, at a significant discount.
Price: $149.95
(GST Inclusive)