<- Back
Enhancing Patient Outcomes through Lifestyle Interventions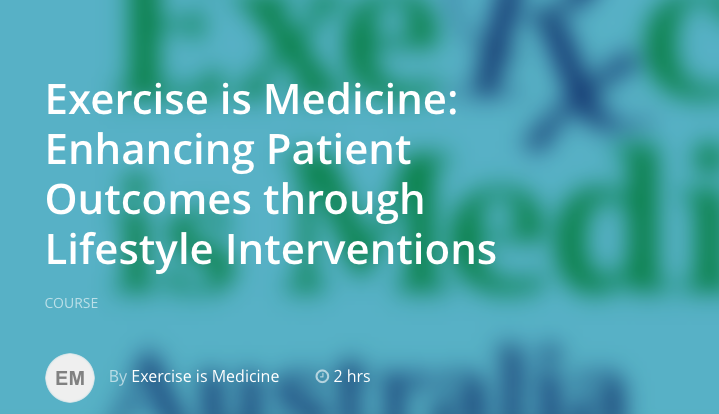 Speciality Classification
General Practice ( GP ) / Family Medicine
This course considers the importance of exercise for overall health and introduces subsequent behaviour-change strategies specific to the adoption of exercise as a regular part of their lifestyle. It highlights the supporting role of Accredited Exercise Physiologists in assisting patients to establish an exercise program best suited to their needs.
To all GPs, if you would like to obtain RACGP CPD points for successful completion of this course, please email your full name and RACGP number.
At the end of the three learning modules, participants will:
Describe how exercise can be used to prevent and manage patient chronic conditions
Describe behaviour-change strategies specific to adoption of physical activity
Recognise the importance of graded exercise therapy in relation to patient safety
Recall key aspects of the Australian Physical Activity Guidelines
Outline existing physical activity assessment tools in medical software including Medical Director and Best Practice
Use the tabs at the top of this page to access each of three modules in sequence or simply follow the arrows at the bottom of each page.
Course Details:
CPD Points:
This education is Allocated 4 CPD Points in the RACGP CPD Program for the 2020 - 2022 triennium.
APNA Endorsed 2 CPD hours
ESSA RACGP Provider ID 602617
RACGP Activity 195681
Duration: Approximately 2 hours online
Successful Completion: This is a self paced course designed to enable the application of knowledge and resources gained in this course to your working context.
Learning Design: Self-paced online learning package
Specific to: General Practitioners, Primary Care Nurses, Allied Health Professionals