<- Back
Fracture Management and Casting for Allied Health Workers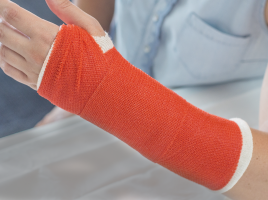 Speciality Classification
Allied Health
Provider
The Benchmarque Group

Available workshop locations
BRISBANE AIRPORT QLD
Brisbane Airport Conference Centre
22 June 2021
8:45AM - 4:30PM
MELBOURNE VIC
The Victoria Hotel
26 June 2021
8:45AM - 4:30PM
PARRAMATTA NSW
Novotel Parramatta, Parramatta
09 July 2021
8:45AM - 4:30PM
SYDNEY INTERNATIONAL AIRPORT NSW
Rydges Sydney Airport, Sydney International Airport
14 July 2021
8:45AM - 4:30PM
Program overview
The Fracture Management and Casting program aims to provide students with the skills and knowledge required to assist people with an orthopaedic condition to regain optimal functional and lifestyle.
PROGRAM OUTLINE
Students will gain the skills and knowledge to safely apply appropriate cast or splint in the management of musculoskeletal disorders and soft tissue injuries for immobilisation due to other medical conditions and to promote the best practice outcomes for patient care.
LEARNING OUTCOMES
Upon successful completion of the program, students should have the skills and knowledge to enable them to:
Work in an interdisciplinary health care team
Develop plan of care
Assess, apply and manage immobilsation devices
Plan and review patient after care.
DELIVERY
One day face-to-face workshop
In-class activities assessed by a qualified assessor
Online assessment completed via accessIQ
Entry Requirements / Prerequisites
Entrants to the Fracture Management and Casting program must provide evidence of a relevant professional role. Relevant roles would include: 
* Registered Nurses
* Enrolled Nurses
* Allied Health Workers
* Aboriginal and Torres Strait Islander Health Workers and Practitioners
* General practitioners
* General Practice Registrars
* Others on application
Title
Fracture Management and Casting for Allied Health Workers
Speciality Classification
Provider Type
Education Provider