This post has expired! It was posted more than 90 days ago.
<- Back
Improving Mental Health Care in the Emergency Department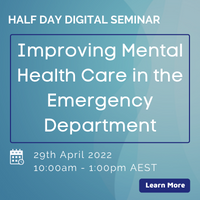 Speciality Classification
Emergency
In order to improve the emergency department experience for patients in psychological distress, greater emphasis must be placed on enhancing the therapeutic response in EDs and limiting restrictive measures.

Combining research findings and academic literature with clinical practice scenarios, this seminar will provide the opportunity for ED clinicians to broaden their repertoire of practical strategies and approaches for responding therapeutically to people in states of agitation or distress.
Entry Requirements / Prerequisites
Who should attend?
Public Sector Hospital & Local Health District
Practitioners with responsibilities including:
• Director of Emergency
• Director of Nursing
• Emergency Physician/Consultant/Staff Specialist
• Emergency Psychiatry/Mental Health
• Nurse Unit Manager
• Clinical Nurse Consultant/Specialist/Nurse
• Patient Flow & Nurse Navigator
• Mental Health Liaison
Modules / Topics
An understanding of what people really want & need when they present to the Emergency Department in psychological distress
Key principles of effective therapeutic care based on the latest research
Fundamental strategies & approaches to enhance therapeutic engagement on-the-run
Alternative considerations & options in providing trauma responsive care
Interventions & approaches aimed at reducing restrictive & coercive practice
Instructors / Speakers
Timothy Wand,
Sydney Local Health District Nurse Practitioner | Mental Health Liaison Emergency Department, Royal Prince Alfred Hospital Associate Professor, University of Sydney
Tim has worked as a mental health nurse in the Emergency Department at Royal Prince Alfred Hospital in Sydney since 2000.
He has considerable experience in working with people experiencing acute states of psychological distress and agitation. Tim also runs a formalised outpatient service based in the ED where people return for brief therapeutic intervention utilising a solution-focused and strengths-based approach. He is an active researcher in emergency mental health and has had extensive involvement in providing education to busy clinicians.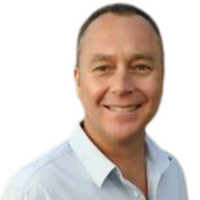 Title
Improving Mental Health Care in the Emergency Department
Speciality Classification
Interest Areas / Topics Covered
Mental Health
Provider Type
Event Managers
Access Duration (in months)
1 Month