<- Back
Lung Ultrasound – 1 Day Course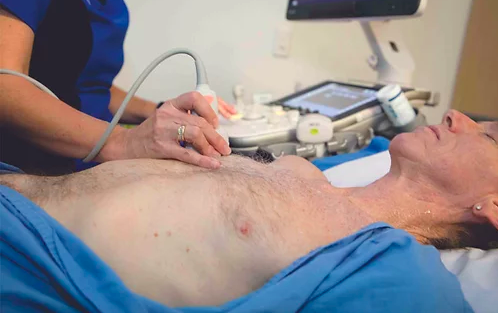 Speciality Classification
Medical Doctors
Location
Broadbeach Waters, QLD 4218
Provider
Australian Institute of Ultrasound

Lung ultrasound using the stethoscope of the 21st century can really revolutionise your practice. It is undoubtably[DY1] superior to the stethoscope and arguably better than most chest xrays. Learn how to scan for pleural pathologies, effusions, oedema and consolidation. Incorporate into your clinical practice quickly, safely and effectively.
Common emergency presentations including sepsis, trauma, dyspnoea and resuscitation can all be guided and enhanced by the skills acquired with lung ultrasound. Unable to see those sternum/rib fractures on x-rays? Find them easily with ultrasound.
CONTENT
We combine short lectures, short demonstrations and lengthy practical scanning of healthy volunteers, using tutor-student ratios of no more than 1:4. We will use case based discussions to teach interpretation and integration into clinical situations, and phantoms for needling of pleural effusion.
The one-day course will include the following:
Pneumothorax – recognition and quantification of a pneumothorax
Haemothorax / pleural effusion – recognition, localisation and quantification of size
Interstitial oedema / cf. APO - recognition and quantify B line artefacts
Consolidation and parenchymal pathologies – recognition, localisation and size
Rib and sternal fractures – find those fractures that you miss on plain x-rays
Procedural marking – safe procedural guidance and needling technique
OBJECTIVES
Select correct probe and protocol for the clinical question
Demonstrate appropriate image acquisition on (relatively) healthy volunteers with a variety of body habitus.
Recognise the different artefacts and synthesise the pattern to postulate the disease.
Demonstrate ability to interpret images through the medium of case-based discussion.
Classify a disease process by the pattern of the patterns.
Suggest safe or appropriate management.
Demonstrate the skills to place a needle safely into a pleural effusion.
ACCREDITATION & APPROVALS
ACEM | Course 018 is approved for 8 Continuing Professional Development (CPD) hours as complying with ACEM standards and policies.
ACRRM | This course is approved for 9 total activity hours. PDP units: 2 Performance Review, 2 Performance Review, 5 Educational Activity. MOPS points: 8. Grant eligibility: Emergency Medicine, Anaesthetics, Obstetrics, Surgery.
ASUM | CCPU units included in the course:
RACGP | This course is an RACGP CPD Accredited Activity 40 CPD Program points in 2020-22 Triennium. RACGP ID 235738. Grant eligibility: 1 Day Emergency Medicine, Anaesthetics, Surgery.
Title
Lung Ultrasound – 1 Day Course
Speciality Classification
Interest Areas / Topics Covered
Emergency
Provider Type
Education Provider
Location
Broadbeach Waters, QLD 4218