<- Back
Manipulation Made Simple - Part 1
Understanding Combined leverage HVLA and the peripheries
Many practitioners can find High-Velocity, Low-Amplitude Manipulation (HVLA) to be complex and daunting. In this course Danny Williams will demonstrate how to recognise presentations suited to HVLA and the techniques needed to treat them safely, comfortably and with confidence in your practice.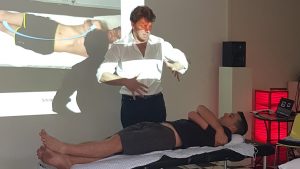 In this 1-day masterclass you will learn how to combine different components of motion to create a 'cumulative barrier' for HVLA. This is often more comfortable for the patient and the practitioner as the 'restrictive barrier' can be addressed well before the anatomical end of range. You will learn how to apply these cumulative components to spinal joints as well as peripheral joints.
Danny is a UK trained osteopath and a passionate and engaging presenter with over 20 years' experience lecturing and examining. He will also introduce you to his 3p method of minimal leverage HVLA, which will be covered in Part 2.
Learning Outcomes
Learn to treat lumbar spine, cervical spine, thoracic spine, and peripheral joints.
Recognise the presentations suitable to HVLA manipulation
Understand positionings that are safe and comfortable for both patient and practitioner
Avoid common problems and recognise red-flags associated with HVT
Course Details
This course is applicable to osteopaths and manual therapy practitioners with experience treating with manipulation. It will include practical examination and treatment protocols you will be able to use with confidence in your practice.
The course will run from 9 AM to 5 PM. Places are limited to 20 attendees. It also includes morning and afternoon tea, e-notes and an e-certificate of attendance for your CPD records. The course can be counted as 6.5 hours CPD.