<- Back
Speciality Classification
Medical Doctors
Duration
3 years part-time minimum
Provider
the University of Sydney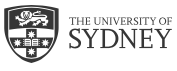 Overview
In response to COVID-19, the University of Sydney has reviewed the availability of courses to be delivered remotely for students commencing their studies in Semester 1, 2021.
This course will be available to study remotely for students commencing in Semester 1, 2021. Please note that some units of study that are not essential to completing the degree may not be available to be studied remotely.
Note: The University intends to offer as many units of study as possible in a remote as well as face-to-face learning method of delivery in Semester 1, 2021 and subject to ongoing border closures and public health orders impacting attendance on campus, in Semester 2, 2021. However, some units of study and courses require students to study in-person at the relevant University of Sydney campus/es and host locations for placements and will not be available remotely.
About this course
The Master of Medicine (Trauma-Informed Psychotherapy) teaches an approach that helps people with personality or anxiety disorders, dysthymia, chronic depression, somatisation and other conditions in which trauma is a contributing factor.
The program is designed to train clinicians to treat people for whom chronic, complex trauma has played a contributing role in the development of psychological disorders or stress, or where conventional psychotherapies have failed. It uses an evidence-based approach to psychodynamic psychotherapy and offers supervised training across the different lengths of treatment, from acute to brief and longer term, suitable for public and private settings.
This course is suitable for psychiatry registrars, CMOs and psychiatrists, general practitioners or other medical practitioners who wish to develop a career in psychotherapy or as psychotherapists. It has been designed to meet the needs of clinicians for training in both shorter and longer forms of psychotherapy and for trauma-informed care in relation to all mental health services.
The program is delivered in close liaison with the Western Sydney Local Health District and practising clinicians to ensure that the skills taught are practical and relevant to real-world psychotherapy practice settings. Clinical content includes short and longer-term interventions and the integration of psychotherapy with other treatment modalities.
Designed for busy working doctors, the structure of this degree is flexible and allows you to pace your study and tailor your learning to your needs and interests.
Commonwealth Supported Places (CSP) are available for this course for eligible domestic students. This means that your course fees are subsidised by the Australian Government and you pay a student contribution amount (SCA). CSP places are limited in number and are allocated based on academic merit.
Course details
Faculty/University School: Faculty of Medicine and Health
Credit points required: 48
Course abbreviation: MMed(Trauma-Informed Psychotherapy)
USyd code: MAMEDICI4TIP
UAC code: N/A
Study mode: On-campus day, Online
Study type: PGCW
Location: Cumberland Hospital, North Parramatta
Duration full time: Currently not available
Duration part time: 3 years part-time minimum
Availability for international students: Not available to student visa holders or to offshore international students. International students in Australia on other visas with study rights may apply.
What you'll study
The master's degree requires the completion of 48 credit points of units of study including:
12 credit points of compulsory units of study;
24 credit points of stream specific units of study; and
12 credit points of stream specific or general elective units of study.
The degree comprises of coursework, supervised clinical work and a capstone experience of the scholarly creation of a paper suitable for publication.
You will complete this course part-time, usually over three years, and the course structure allows for a slower progression and longer time completion if necessary.
Title
Master of Medicine (Trauma-Informed Psychotherapy)
Speciality Classification
Duration
3 years part-time minimum
CPD Points
Credit points required: 48
Price Details
Tuition Fee for Domestic Students (Year 1): $31,500 (indicative only)
Tuition Fee for Domestic Students (Year 1): $31,500 (indicative only)