<- Back
Speciality Classification
Allied Health
Location
Sydney University NSW 2006
Duration
2 years full time for Domestic and International students
Provider
The University of Sydney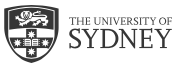 Overview
In response to COVID-19, the University of Sydney has reviewed the availability of courses to be delivered remotely for students commencing their studies in Semester 1, 2021.
Some units of study and/or placements relating to this course cannot be delivered remotely or online for students commencing their study in Semester 1, 2021. You will be required to attend in-person on campus from Semester 1, 2022.
Note: The University intends to offer as many units of study as possible in a remote as well as face-to-face learning method of delivery in Semester 1, 2021 and subject to ongoing border closures and public health orders impacting attendance on campus, in Semester 2, 2021. However, some units of study and courses require students to study in-person at the relevant University of Sydney campus/es and host locations for placements and will not be available remotely.
International students
For detailed information on remote study options for international students in 2021 please read the section below titled 'Options for international students commencing remotely in 2021.'
About this course
Provide high-quality healthcare and change lives. Through practical learning and extensive clinical placements, you will learn to work with clients to help them participate more fully in life by focusing on their strengths.
Why study this course?
Students will learn to help people with disabilities, recovering from injury or with ongoing conditions to overcome barriers, teaching alternative techniques to achieve a given task and facilitating skill improvement.
Learn in our purpose-built laboratories, on-site health clinics and use high-calibre equipment across our dedicated health facilities.
Recognised by the Australian Health Practitioner Regulation Agency (AHPRA), this course allows graduates to work in any Australian state or territory in both the public and private sector.
What will you learn?
Students will cover a wide range of topics including:
theories of what people do in daily life and why
activity and environmental analysis
theories and techniques for promoting participation in daily life.
knowledge of the development of human capabilities (e.g. cognitive, motor, psychosocial) and the ways in which injury and illness typically disrupt them
How will you learn?
The Master of Occupational Therapy is offered on-campus and is available as a two-year full-time program or four years part-time.
Students will complete over 1,000 hours of clinical placements, providing the opportunity to apply their knowledge and gain hands-on experience with real clients.
In 2021, we will move to the purpose-built Health Precinct at Camperdown campus, which will for the first time bring multiple health disciplines together in a facility that translates research into education and clinical services.
Course details
Faculty/University School: Faculty of Medicine and Health
Credit points required: 96
Course abbreviation: MOT
USyd code: MAOCCTHE2000
UAC code: N/A
Study mode: On-campus day
Study type: PGCW
Location: Camperdown/Darlington campus
Duration full time: 2 years full time for Domestic and International students
Duration part time: 4 years part time (not available to international student visa holders)
What you'll study
You will follow a prescribed course of study with a total 96 credit points (cp) incorporating core units (90cp) and one elective unit (6cp).
Year 1
Assessing Evidence for OT Practice
OT Assessment and Planning
Introduction to OT Theory and Practice
Biomechanical and Sensorimotor Strategies
OT in Home and Community Environments
OT in School and Work Environments
Developing OT Prof. Skills in Practice
and choose one of the following units
Clin. Oriented Musculoskeletal Anatomy A
Psychology for Graduate Students
Clinically Based Neuroscience
e-Health for Health Professionals
Year 2
Psychosocial and Cognitive Strategies
Enabling Occupation with Communities
Community Based OT Fieldwork
Implementing Skills in OT Prof Practice
Reflexivity and OT Professional Practice
Choose one research elective:
Research Project Elective
or choose one elective from Occupational Therapy table (refer to faculty handbook for elective choices)
and either
Evaluation of OT Practice
or select Research Stream
Research Elective Dissertation
Please note: in the first semester of the course, students may have classes at both Cumberland and Camperdown campuses (depending on the core elective chosen). Classes will be timetabled to allow students with a standard enrolment pattern to come to a single campus each day.
Title
Master of Occupational Therapy
Speciality Classification
Duration
2 years full time for Domestic and International students
CPD Points
Credit points required: 96
Price Details
Tuition Fee for Domestic Students (Year 1): $37,500 (indicative only)
Location
Sydney University NSW 2006
Tuition Fee for Domestic Students (Year 1): $37,500 (indicative only)