<- Back
Online Course: Introduction to Spinal Cord Injury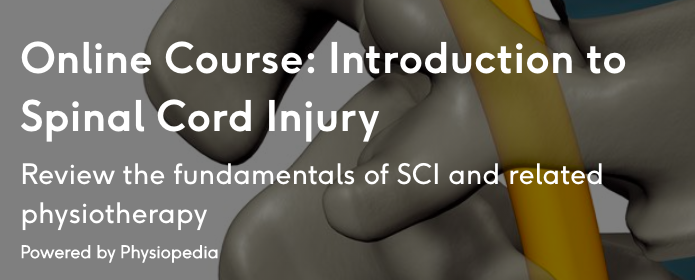 Speciality Classification
Physiotherapists
Introduction
Spinal Cord Injury refers to any damage to the spinal cord resulting from trauma, disease or degeneration with symptoms dependant on both the severity of injury and its location on the spinal cord. According to the World Health Organisation there is no reliable estimate of global prevalence of spinal cord injury, but it is estimated that annual global incidence varies from 40 to 80 cases per million population, which means between 250,000 to 500,000 people acquire a spinal cord injury every year. Approximately 90% of these cases occur as a result of traumatic causes, though the proportion of non-traumatic spinal cord injury appears to be growing. This course will focus on developing an understanding of spinal cord injury; what it is, what causes it, how often it occurs, what you might expect to see, the impacts it has on movement and what other associated conditions may occur. We need to be able to answer these questions in order to understand our role as physiotherapists in the management of spinal cord injury.
Aims
The aim of this course is to provide comprehensive knowledge of spinal cord anatomy, clinical presentations and to examine both local and global prevalence.
Outline
This course is made up of videos, reading, forum posts and a final quiz. The course content is split into the following sections:
Spinal Cord Structure and Function
Epidemiology, Incidence and Global Burden of Spinal Cord Injury
Understanding Spinal Cord Injury
Associated Conditions and Medical Complications
Target audience
This course is aimed at Physiotherapy and Physical Therapy clinicians, students and assistants. Other interested professionals such as athletic trainers, occupational therapists, nurses or medical doctors interested in this subject are also invited to participate.
Practicalities
Hours of Learning - No deadlines are applied to this course and it can be started and completed in your own time according to your personal schedule. We expect the required elements to take around 3-4 hours depending on your schedule and learning style. Additionally there are many optional resources provided and if you choose to review these the course could take longer to complete.
Types of Activities - Reading Physiopedia pages, journal articles, book chapters. Watching videos. Attempting quizzes. Participating in an international discussion forum.
Certificates - At the end of the course, when you have completed all of the required elements, you will be able to download a certificate of completion and 3 Physioplus points will be added to your personalised learning dashboard.
Requirements to complete this course
In order to complete this course and receive a course completion certificate plus CEUs/CCUs/CPD points you will need to:
Respect the Physioplus Community Culture.
Log all the required learning activities as complete (represented by the orange icons!).
Actively and appropriately participate in the course discussions.
Pass a final quiz with a score of 80% or more.
Complete a course evaluation form.
Learning outcomes
At the end of this course you will be able to:
list at least 3 risk factors for spinal cord injuries
identify the most common mechanism of injury associated with spinal cord injuries
discuss at least 1 function of each subdivision of the central and peripheral nervous systems and their connections
describe the correct location of the spinal cord
identify the common loss of function associated with each of the 6 types of patterns of incomplete spinal cord injury
list the correct symptoms of at least 7 complications following a spinal cord injury
Price: Free
Included with a subscription