This post has expired! It was posted more than 90 days ago.
<- Back
Online Course: Introduction to the Shoulder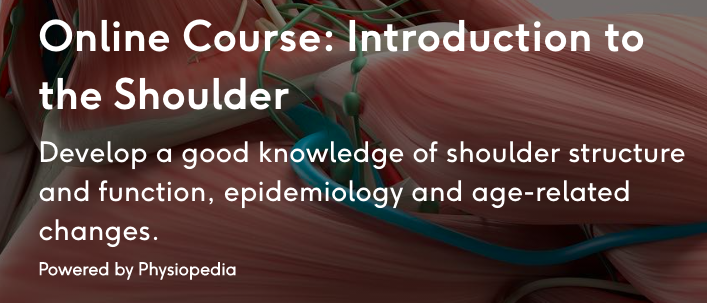 Speciality Classification
Physiotherapists
Introduction
Physiotherapists possess a wide range of clinical skills that can be integrated across a variety of shoulder complaints and surgical contexts. Thus it is useful to have an understanding of the epidemiology, prevalence, and incidence of shoulder conditions. Whether acting as a first contact practitioner or in a rehabilitation capacity following injury or surgery, for any presenting shoulder complaint it is important to have a strong knowledge of functional anatomy and biomechanics, and how these differ with age, in order to optimise an individual's return to function. Currently, there are no generally applied criteria for the various diagnostic labels for shoulder pain, but understanding the different classification systems that have been suggested can help our clinical reasoning processes to contribute towards the optimal management of individuals with shoulder pain. Initially this course will explore the epidemiology of shoulder injuries globally and locally within your community allowing you to assess the impact of injuries to the shoulder in your individual context. This is followed by a review of shoulder structure and function which ensures a good foundation of knowledge for effective clinical reasoning. Age-related differences can have an impact on clinical reasoning, which will be explored in the paediatric and older populations. Finally the currently used classification systems for individuals with shoulder pain will be covered and how you might utilise these in your practice.
Aims
The aim of this course is to provide a comprehensive knowledge of the structure and function of the shoulder, to explore epidemiology, prevalence, and incidence of shoulder pain, investigate age-related differences, and to identify classification systems currently available to start the clinical reasoning process.
Outline
This course is made up of videos, reading, forum posts and a final quiz. The course content is split into the following sections:
Epidemiology of Shoulder Pain & Injury
Shoulder Structure & Function
Age-Related Differences in the Shoulder
Shoulder Pain: The Dilemma of Diagnosis
Target audience
This course is aimed at Physiotherapy and Physical Therapy clinicians, students and assistants. Other interested professionals such as athletic trainers, occupational therapists, nurses or medical doctors interested in this subject are also invited to participate.
Practicalities
Hours of Learning - No deadlines are applied to this course and it can be started and completed in your own time according to your personal schedule. We expect the required elements to take around 4-6 hours depending on your schedule and learning style. Additionally there are many optional resources provided and if you choose to review these the course could take longer to complete.
Types of Activities - Reading Physiopedia pages, journal articles, book chapters. Watching videos. Attempting quizzes. Participating in an international discussion forum.
Certificates - At the end of the course, when you have completed all of the required elements, you will be able to download a certificate of completion and 5 Physioplus points will be added to your personalised learning dashboard.
Requirements to complete this course
In order to complete this course and receive a course completion certificate plus CEUs/CCUs/CPD points you will need to:
Respect the Physioplus Community Culture.
Log all the required learning activities as complete (represented by the orange icons!).
Actively and appropriately participate in the course discussions.
Pass a final quiz with a score of 80% or more.
Complete a course evaluation form.
Learning outcomes
At the end of this course you will be able to:
Describe the epidemiological factors that influence shoulder pain in relation to firstly, global populations and secondly, their local context.
Describe at least four ways in which the structure and biomechanics of the shoulder contributes to function.
Discuss how age can influence clinical reasoning in the paediatric shoulder and the older adult shoulder.
Recognise four methods for classification of shoulder pain.
Title
Online Course: Introduction to the Shoulder
Speciality Classification
Interest Areas / Topics Covered
Pain management, Rotator Cuff Injury, Shoulder tears
Provider Type
Non Profit Organisation
Price Details
Included with a subscription
Included with a subscription