<- Back
Online Course: Rebound Therapy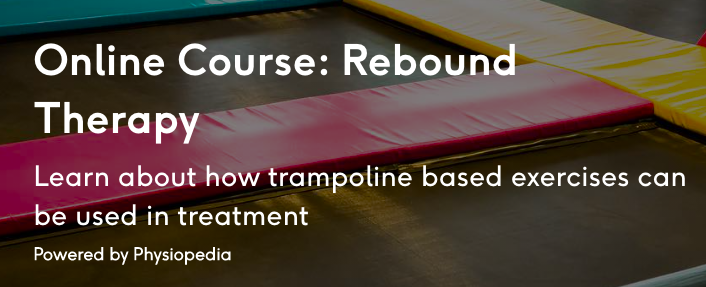 Speciality Classification
Physiotherapists
Introduction
Rebound Therapy is the therapeutic use of trampolines. It is used clinically to facilitate movement, improve balance, impact muscle tone, improve communication, promote relaxation as well as improve fitness and exercise capacity. It is a therapeutic intervention aimed at populations with special needs and can benefit a wide range of individuals including those with physical disabilities, learning difficulties, sensory impairments and those on the autistic spectrum. This course will focus on an introduction to Rebound Therapy; its indications; contraindications; safety considerations; measuring and recording progress as well as practical examples of Rebound Therapy for physically challenged patients with Cerebral Palsy and Profound and Multiple Learning Disabilities as well as able-bodied individuals with learning disabilities.
This course does not imply validation as a Rebound Therapy practitioner, but it does offer useful knowledge for the candidate to operate in an assistant capacity to a qualified Rebound Therapy practitioner. However there is a 30% discount on the full online distance learning Level 2 Rebound Therapy course to all who complete the Physiopedia course and wish to become a validated Rebound Therapy practitioner.
Aims
The aim of this course is to provide an introduction to Rebound Therapy and provide practical examples of its therapeutic use.
Outline
This course is made up of videos, reading, discussions and a final quiz. The course content is split into the following sections:
What is Rebound Therapy
Practical Application of Rebound Therapy
Communication and Cross-Curricular Teaching in Rebound Therapy
Measuring and Recording Progress in Rebound Therapy
Target audience
This course is aimed at Physiotherapy and Physical Therapy clinicians, students and assistants. Other interested professionals such as athletic trainers, occupational therapists, nurses or medical doctors interested in this subject are also invited to participate.
Practicalities
Hours of Learning - No deadlines are applied to this course and it can be started and completed in your own time according to your personal schedule. We expect the required elements to take around 3-3.5 hours depending on your schedule and learning style. Additionally there are many optional resources provided and if you choose to review these the course could take longer to complete.
Types of Activities - Reading Physiopedia pages, journal articles, book chapters. Watching videos. Attempting quizzes. Participating in an international discussion forum.
Certificates - At the end of the course, when you have completed all of the required elements, you will be able to download a certificate of completion and 2.8 Physioplus points will be added to your personalised learning dashboard.
Requirements to complete this course
In order to complete this course and receive a course completion certificate plus CEUs/CCUs/CPD points you will need to:
Respect the Physioplus Community Culture.
Log all the required learning activities as complete (represented by the orange icons!).
Actively and appropriately participate in the course discussions.
Pass a final quiz with a score of 80% or more.
Complete a course evaluation form.
Learning outcomes
At the end of this course you will be able to:
identify at least 3 indications for Rebound Therapy
to identify at least 3 benefits of Rebound Therapy
to select at least 4 contraindications to Rebound Therapy
to identify 4 techniques that form part of Rebound Therapy
to select the appropriate Rebound Therapy interventions based on a specific case example
to justify 6 ways in which communication can be facilitated in Rebound Therapy using specific case examples
describe the function of the Huddersfield Functional Index in terms of the grades and movement scales.
Price: Free
Included with a subscription