This post has expired! It was posted more than 90 days ago.
<- Back
Professional Certificate of Aesthetic Medicine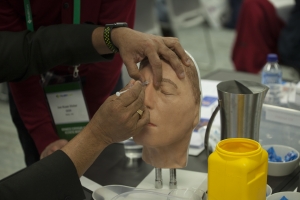 Speciality Classification
Medical Doctors
Location
Online with optional practical workshops in sydney, melbourne, brisbane, perth or adelaide
Time / Duration
Start anytime online, learn at your own pace
The latest trends in health and skin care lead to an increased demand for skin repair and rejuvenation services - and skilled practitioners. Patients seek to improve the quality of their lives through physical changes and prefer to receive these services from a trusted, qualified doctor than a beautician or cosmetic nurse.
With Medicare rebates frozen for consultations and the cost of providing medical care increasing, incorporating aesthetic medical services to your practice will enhance your patients' overall experience and allow you to operate a more profitable and financially secure practice.
Meeting your patients' aesthetic concerns and helping them to regain their healthy appearance and confidence at their local GP's clinic will build long-term loyalty and add non-Medicare based revenue to your practice.
Most aesthetic treatments are safe, quick and low-cost to deliver, requiring repeated visits with minimal side-effects, no downtime, and immediate visible results for your patients – a win-win situation.
This course is the first part of the three-part Professional Diploma of Aesthetic Medicine. The education pathway is Professional Certificate of Aesthetic Medicine, Advanced Certificate of Aesthetic Medicine and Professional Diploma of Aesthetic Medicine.
Course participants can choose to complete the course entirely online or with an optional practical workshop. The certificate course will provide the clinician with introductory knowledge including:
Concepts of aesthetic medicine, facial ageing and skin classifications.
Facial anatomy, facial anaesthesia and planning of cosmetic procedures.
Introduction to chemical peels and topical skin treatments*
Introduction to chemical composition and safe practice of Botulinum toxin*
Introduction to dermal fillers and basic filler techniques*
Strategies to integrate and market aesthetic services in your practice
All topics are covered online and during the web live tutorials. *These topics are also covered during the hands-on practical sessions in the optional skills workshop. Course graduates also receive ongoing post-course support through regular alumni webinars.
The Professional Certificate of Aesthetic Medicine comprises of three parts featuring 1) flexible online learning at your own pace, 2) interactive live web tutorials with additional content and demonstrations of procedures as well as 3) an optional small group practical workshop in Sydney, Melbourne, Brisbane, Perth or Adelaide.
Inclusions
Certificate of completion
Title
Professional Certificate of Aesthetic Medicine
Speciality Classification
Interest Areas / Topics Covered
-- GENERAL MEDICAL--, Cosmetic, Dermatology, Medical Education, Men's health, Plastic and|or reconstructive surgical, Women's health
Provider Type
Education Provider
Time / Duration
Start anytime online, learn at your own pace
CPD Points
RACGP: CPD Accredited Activity 40 Points | ACRRM: PDP units: 21 Educational activity, 6 Performance review
Location
Online with optional practical workshops in sydney, melbourne, brisbane, perth or adelaide