<- Back
PROFESSIONAL CERTIFICATE OF CLINICAL PROCEDURES
COURSE OVERVIEW

The Professional Certificate of Clinical Procedures provides the clinician with intermediate level knowledge including the ability to understand and manage a variety of common problems that require office-based surgical intervention, such as foreign body removal, lacerations, sebaceous cysts and ingrown toenails. The program is suitable for GPs, overseas trained doctors, newly arrived doctors seeking to work in rural networks, nurse practitioners and VR doctors who wish to further develop their surgical office-based knowledge. The program is approved for the Rural Procedural grant program.

ENTRY REQUIREMENTS AND COURSE REQUISITES

The Professional Certificate of Clinical Procedures is ideal for medical professionals, overseas trained doctors, nurse practitioners and VR doctors who wish to further their surgical office-based knowledge by gaining an intermediate level understanding of a variety of common problems requiring surgical intervention. Participants will be equipped with valuable experience and practical knowledge to make them adept at dealing with common problems in daily practice. The course is suitable for general practitioners and the nurses who work under their supervision, as well as for International Medical Graduates. The course assumes no prior knowledge or training in the field.

COURSE CONTENTS

The content covers sections on theory plus hands-on practical sessions. This course is designed to assist GPs in developing confidence in various procedures and understanding their limitations without further practical experience.

The common surgical problems often encountered by GPs such as ingrown toenails, foreign bodies, lacerations, sebaceous cysts, etc. can be readily dealt within general practice. The program demonstrates and practices a range of surgical procedures, local anaesthetic approaches, post-operative care and simple and more complex suturing with valuable tips on obtaining good cosmetic outcomes. All techniques are demonstrated with expertly filmed videos from A/Prof Brygel's extensive media collection and practised on models and wet specimens.

In the management of ingrown toenails, successful surgical treatment depends on obtaining satisfactory local anaesthesia. The program teaches and practices digital blocks to enable surgical correction and addresses other nail conditions such as acute paronychia abscess and subungual haematoma. The surgery ranges from removal of the nail edge, avulsion of the whole nail in selected cases, and more complex wedge resection. In addition, the increase in the popular use of Phenol ablation is demonstrated and informed consent, safety precautions and multiple attempts at post-operative care are dealt with in detail.

Hands and feet are common sites for splinters, nails and other objects to be embedded. Apart from local anaesthetic and surgical approaches to a diverse variety of problems, the course addresses the management of the wound and possible infections.

Lacerations can range from a simple clean cut to a dirty, potentially infected wound. The program offers an overview onthe management of different lacerations with the aim to obtain primary closure. Debridement of the wound is also demonstrated and practised to give the practitioner the ability to cope with the most type of lacerations in the primary care setting.

Sebaceous and pilar cysts are ubiquitous and can occur anywhere on the body. They may present as an infection or abscess around a previous lump. The course demonstrates local anaesthetic techniques in both the non-infected and infected sebaceous cyst with abscess and addresses several surgical methods depending on the sites on the body, the severity of the infection and the skill and experience of the practitioner. Particular care is taken to demonstrate the management of the resultant cavity following the removal of a cyst and instructions are given to avoid damage to underlying structures.

The experienced course presenters also show how to manage subcutaneous lipomata and share tips and tricks of doing this procedure simply and avoiding excessive bleeding.

The course also discusses the treatment of haemorrhoids and anorectal conditions. The anorectal program will use power point presentations and video to visualize the common or important anal-related conditions, including haemorrhoids, haematoma, abscess, fistula, fissure, and warts. In diagnosing these conditions it is very important to differentiate them from more sinister problems. The anatomical and pathological basis are presented, in particular, the classification of haemorrhoids and the development of a fistula. The history with appropriate examination is usually sufficient to give a precise diagnosis.

The course also dedicates a session to practise simple and more complex suturing, including inverted suturing, deep suturing and subcuticular suturing.

The theory and practical sessions cover:
Lacerations, leg ulcers and lipomas
Abscesses and sebaceous cysts
Foreign bodies
Ingrown toenails
Warts, skin lesions and haematomas
Haemorrhoids and anal-rectal conditions
Local anaesthesia
Simple and advanced suturing
Post-operative care and dressing selection
Course participants will:
Observe experts performing clinical procedures techniques on a large screen with close-up camera
Perform procedural techniques in a simulated environment and receive feedback
Participate in online discussion of patient cases, evaluate and make decisions
Receive a comprehensive course folder and research/readings in the field
Receive unlimited and ongoing access to free alumni learning resources, video lectures, and discussion forums, as well as invite-only events and special offers after completion of the course
Receive ongoing support post-course through webinars and case review
Have the opportunity to participate in optional clinical attachments at dedicated clinics
COURSE OUTLINE Saturday
Time
Session
Topic
8:00am – 8:30am
Registration
8:30am – 10:00am
Session 1
Principles of wound healing and managing
Small procedures in general practice theory
10:00am – 10:30am
Morning Tea
10:30am – 12:00pm
Session 2
Closing the wound
Theory and practical
12:00pm – 1:00pm
Lunch
1:00pm – 2:30pm
Session 3
Lacerations
Theory and practical
2:30pm – 3:00pm
Afternoon Tea
3:00pm – 4:30pm
Session 4
Foreign bodies
Sunday
Time
Session
Topic
8:15am - 8:30am
Arrival
8:30am – 10:30am
Session 5
Ingrown toenails
Theory and practical
10:30am – 11:00am
Morning Tea
11:00am – 12:00pm
Session 6
Diagnosis and management of anal rectal conditions
12:00pm – 1:00pm
Lunch
1:00pm – 3:00pm
Session 7
Lumps and bumps
Theory and practical
3:00pm - 3:30pm
Afternoon Tea
3:30pm – 4:30pm
Session 8
Managing infected lesions
MEET YOUR INSTRUCTORS

This course is presented by a team of experienced surgeons and noted clinicians, including: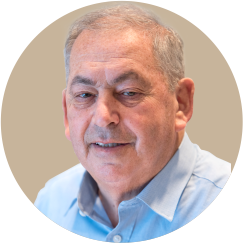 A/Prof Maurice Brygel
FRACS
General Surgeon and Lecturer, Royal Australian College of Surgeons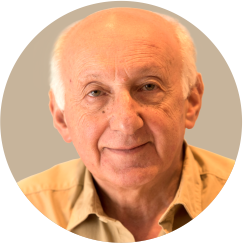 Dr Peter Grossberg
FRAC, MBBS
Senior Surgeon and Lecturer, Box Hill Hospital Melbourne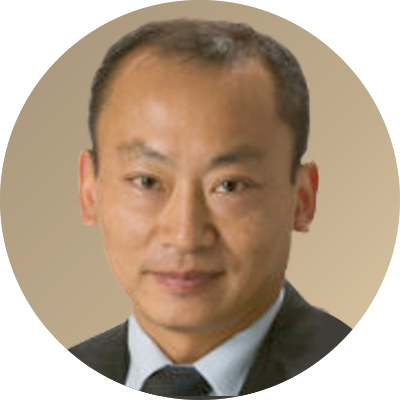 Dr Peter Chu

MBBS, FRACSGen, FRACSVasc, BMEDSCI

Vascular & Endovascular Surgeon

PERTH 10 - 11 NOVEMBER 2018

Perth Convention & Exhibition Centre

COURSE FEES AND PAYMENT OPTIONS

REGULAR TUITION FEE

$3,195

Different payment options available.

EARLY BIRD RATE

$2,995

Register 30 days prior to the course commencement date.

DEFERRED PAYMENT

$845 x 4

Defer your payments over several months.

GP REGISTRARS: Doctors in training who are on a recognised pathway to General Practice Registration through a recognised training provider receive a HealthCert Scholarship of $500.

COURSE DELIVERY AND ASSESSMENT

The Professional Certificate of Clinical Procedures is designed as a face-to-face course that is supported by online materials. There are eight units in a HealthCert Professional Certificate program. Course learning materials will be available for 15 weeks. There will be pre-reading activities, an intensive weekend program with expert demonstrations and practical hands-on activities, online materials and further readings, individual assessment tasks and finally two online examinations.

Online assessment

In order to meet the requirements of professional and academic learning, the course assessment includes two online examinations:
88 knowledge questions based on a scenario of a medical practitioner undertaking special interest training.

11 per module
Example: The medical practitioner believes that 10% of the population … Is he correct? Yes/No

88 authentic scenario based questions based on cases of patient care at a clinic

11 per module
Example: A patient arrives at your clinic with this problem … What should you do? Multiple choice images based on patient cases.
The knowledge-based examination is worth 50 per cent and the application-based examination is worth 50 per cent. The overall pass mark is 80 per cent. It is therefore not possible to pass this course on knowledge alone. Knowledge must be successfully applied to patient cases in order to pass the course.

HealthCert recommends completion of the assessment at your convenience within three months of the completion of the course (or enrolling in the online course).

CERTIFICATION AND ACCREDITATION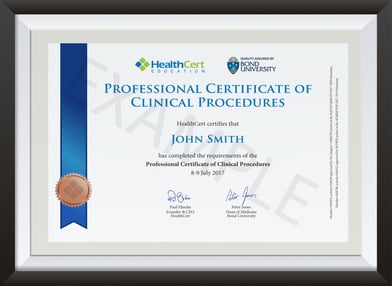 Upon successful completion of the exam, course participants will receive the Professional Certificate of Clinical Procedures.
RACGP: 40 Category 1 QI&CPD points
ACRRM: 30 ACRRM PRPD + 30 MOPS points + Approved for 2 days Rural Procedural Grants Program
This certificate course:
Is recognised by Royal New Zealand College of General Practitioners (RNZCGP). The RNZCGP recognises all courses endorsed by the RACGP. Peer review and audit are compulsory
Qualifies for Clinical Attachment in France at the University of Lyon
Qualifies for Clinical Attachment in Austria at the University of Vienna
EDUCATION PATHWAYS

Postgraduate Diploma in Minor Surgery studied through the Rila Institute of Health Sciences and awarded by the University of Plymouth (UK).

There are three modules in the Postgraduate Diploma. Medical professionals who successfully complete the HealthCert Professional Certificate of Clinical Procedures and the Advanced Certificate of Clinical Procedures will be eligible to apply for Accreditation of Prior Certified Learning (APCL) for module 2.

The Postgraduate Diploma is mainly delivered online. No practical workshops will be required due to the APCL from the HealthCert qualifications. Overall there will be a time saving of 40 per cent of the postgraduate program due to the APCL. Exams will be held in Perth, Western Australia.

When the Postgraduate Diploma has been successfully completed, doctors can apply for credit from the Postgraduate Diploma to the Master of Science in the specialism awarded by the University of Plymouth.

For more information please click here.


Certified Clinical Attachments Pathway

Clinical Attachments are optional and available on a 1:1 basis. These provide the opportunity to observe clinical procedures and ask questions of the expert performing the procedures. Clinical Attachments are available for Skin Cancer Surgery (only for graduates of the Professional Certificate of Clinical Procedures). These are available in Australia and overseas. The clinical attachments are 1:1 in Australia and they are in small groups at university teaching hospitals and clinics overseas. HealthCert certificates and university statements are awarded for participating in clinical attachments.