This post has expired! It was posted more than 90 days ago.
<- Back
Professional Certificate of Clinical Procedures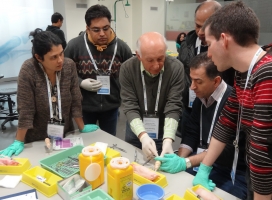 Speciality Classification
Medical Doctors
Location
Online with optional short practical workshops in Sydney, Melbourne, Brisbane, Perth or Adelaide
Time / Duration
Start anytime (learn at your own pace)
The Professional Certificate of Clinical Procedures provides the clinician with intermediate level knowledge including the ability to understand and manage a variety of common problems that require office-based surgical intervention, such as foreign body removal, lacerations, sebaceous cysts and ingrown toenails.
The program is suitable for Medical Doctors, overseas trained doctors, newly arrived doctors seeking to work in rural networks, nurse practitioners and VR doctors who wish to further develop their surgical office-based knowledge. The program is approved for the Rural Procedural grant program.
Lacerations, leg ulcers and lipomas
Abscesses and sebaceous cysts
Foreign bodies
Ingrown toenails
Warts, skin lesions and haematomas
Haemorrhoids and anal-rectal conditions
Local anaesthesia
Simple and advanced suturing
Post-operative care and dressing selection
All topics are covered online and during the web live tutorials. *These topics are also covered during the hands-on practical sessions in the optional skills workshop. Course graduates also receive ongoing post-course support through regular alumni webinars.
The courses in this pathway comprise of three parts, featuring 1) flexible online learning at your own pace, 2) interactive live web tutorials with additional content and demonstrations of procedures as well as 3) an optional small group practical workshop in Melbourne, Sydney, Brisbane, Perth or Adelaide.
Inclusions
Certificate of completion
Title
Professional Certificate of Clinical Procedures
Speciality Classification
Interest Areas / Topics Covered
-- GENERAL MEDICAL--, Arthritis of the elbow, Burn, Generalist, Ingrown toenails, Medical-surgical, Medical Education, Musculoskeletal medicine, Pain management, Runner's Knee, Surgery clinic/minor surgery, Sports Injuries, Surgical, Tennis Elbow, Throwing Injuries, Wound care
Provider Type
Education Provider
Time / Duration
Start anytime (learn at your own pace)
CPD Points
RACGP: CPD Accredited Activity 40 Points | ACRRM: PDP units: 23 Educational activity
Benefits
Eligible for grants
Location
Online with optional short practical workshops in Sydney, Melbourne, Brisbane, Perth or Adelaide