<- Back
Professional Certificate of Skin Cancer Medicine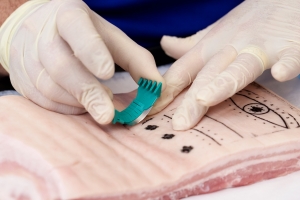 Speciality Classification
Medical Doctors
Location
Online with optional workshops in Sydney, Brisbane, Melbourne, Perth or adelaide
Duration
Online (start anytime, learn at your own pace) with optional short practical workshops
Skin cancer is one of the most common dermatological conditions seen in general practice – and it is not overly complex to manage if you have the right skill set. This certificate course has been specifically designed for time-poor general practitioners wishing to acquire the knowledge required to safely and confidently diagnose and treat commonly encountered skin lesions.
This course is the first part of the three-part Professional Diploma of Skin Cancer Medicine. The education pathway is Professional Certificate of Skin Cancer Medicine, Advanced Certificate of Skin Cancer Medicine and Professional Diploma of Skin Cancer Medicine.
The course provides training in skin cancer medicine and teaches various techniques allowing GPs to treat more complex cases in the primary care setting. Course participants can choose to complete the course entirely online or with an optional practical workshop available in Sydney, Melbourne, Brisbane, Perth, or Adelaide.
Skin anatomy and histology
Diagnosis with dermoscopy
Benign and malignant skin lesions
Melanoma management
Punch and shave biopsies*
Elliptical excisions and suturing*
Dermatopathology
Topical treatment options
Workflow and Medicare billing
All topics are covered online and during the web live tutorials. *These topics are also covered during the hands-on practical sessions in the optional skills workshop. Course graduates also receive ongoing post-course support through regular alumni webinars.
The Professional Certificate of Skin Cancer Medicine comprises of three parts, featuring 1) flexible online learning at your own pace, 2) interactive live web tutorials with additional content and demonstrations of procedures as well as 3) an optional small group practical workshop.
Inclusions
Certificate of completion
Title
Professional Certificate of Skin Cancer Medicine
Speciality Classification
Interest Areas / Topics Covered
Cancer, Dermatology, Medical-surgical, Medical Education, Skin cancer detection/mole scan/total skin check, Surgical, Wound care, Skin Cancer and the MBS, Pathology
Provider Type
Education Provider
Duration
Online (start anytime, learn at your own pace) with optional short practical workshops
CPD Points
RACGP: CPD Accredited Activity 40 Points | ACRRM: PDP Units: 35 Educational activity, 16 Performance review
Price Details
Savings available for GP Registrars and bundle purchases
Benefits
Eligible for grants
Location
Online with optional workshops in Sydney, Brisbane, Melbourne, Perth or adelaide
Savings available for GP Registrars and bundle purchases