<- Back
Skills-based Approach to Managing Chronic Health Conditions in Schools: Online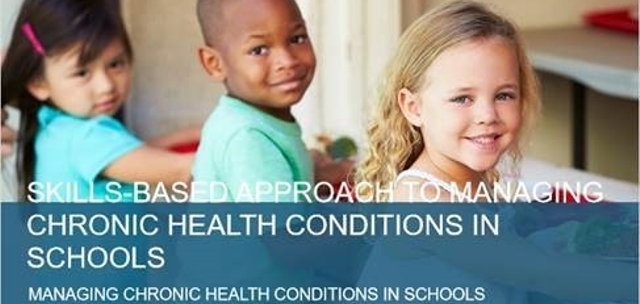 Speciality Classification
Nurses and Midwives
Upon successful completion of this offering,
participants will receive 4.25 CNE contact hours.
Cost: Free for NASN members and non-members!
Program Overview
Skills-based Approach to Managing Chronic Health Conditions in Schools is an interactive program geared towards helping school nurses apply the NASN Framework for 21st Century School Nursing PracticeTM to the management of chronic health conditions in schools. The program is part of the CDC funded NASN project Collaboration to Support Students with Chronic Health Conditions, and was originally an in-person program at the Healthy Schools Academy conference held at the CDC in Atlanta, GA in February 2018. The content was converted to an online format in May 2020. The program provides foundational skills for managing chronic health conditions. To further support students with chronic health conditions return safely to school in the midst of the COVID-19 pandemic, the "Recommended Pre-reading" includes the NASN publication (7/30/20) Return to School Post COVID-19 Closure – Considerations for Students with Disabilities and Special Healthcare Needs. This document was developed to help the practicing school nurse incorporate and apply CDC COVID-19 school-based guidance in schools to support students with a chronic health condition.
Learning Outcomes
As a result of participating in this educational activity, learners will be able to:
Describe evidence-based skills for a 21st century school nurse led approach to managing chronic health conditions in schools.
Apply lessons learned from other state experiences supporting students to effectively manage their chronic health condition.
Explain to non-licensed stakeholders key components needed for effective management of chronic health conditions for students in schools, to support development and sustainability of programming.
Intended Audience
This continuing education program is a knowledge-based activity developed to meet the educational needs of registered nurses who are interested in child and adolescent health.
Faculty
Nichole Bobo, MSN, RN
Director of Nursing Education
National Association of School Nurses
Ann O. Nichols, MSN, RN, NCSN
North Carolina State School Health Nurse Consultant, Nursing Supervisor
North Carolina Division of Public Health, Children & Youth Branch
North Carolina Department of Health & Human Services
Donna Daughtry, BSN, RN-C
School Health Chronic Condition Nurse Consultant
North Carolina Division of Public Health, Children & Youth Branch
North Carolina Department of Health & Human Services
Faculty and Program Planner Disclosures
NASN must ensure that all educational session content is free of commercial bias and influence. The intent of this disclosure is to provide learners with information on which they can make their own judgments.
The nurse planner, faculty and reviewers disclose the absence of personal financial relationships with commercial interests relevant to this educational activity within the past 12 months.
Accreditation Statement
National Association of School Nurses is accredited with distinction as a provider of continuing nursing education by the American Nurses Credentialing Center's Commission on Accreditation.
Accredited status does not imply endorsement by NASN or ANCC of any commercial products discussed in this learning activity.
Commercial Support or Grant Funding
Funding for this program was made possible (in part) by Cooperative Agreement Numbers DP16-1601 NU1ADP003090 & DP18-1801 NU58DP006437 from the Centers for Disease Control and Prevention (CDC).*
*The views expressed do not necessarily reflect the official policies of the Department of Health and Human Services, nor does the mention of trade names, commercial practices, or organizations imply endorsement by the U.S. Government.
Instructions to Complete This CNE Activity
To receive a Certificate of Completion for this course, follow the steps below, and complete and view the full content of the program including the course evaluation.
NASN will conduct an outcome assessment of a sample of participants at a later date. Please be advised that, if you complete this course, you may be asked to participate in this outcome assessment.
Title
Skills-based Approach to Managing Chronic Health Conditions in Schools: Online
Speciality Classification
Interest Areas / Topics Covered
Chronic Conditions and Disease Management
Provider Type
Education Provider
Price Details
Free for NASN members and non-members
Free for NASN members and non-members