This post has expired! It was posted more than 90 days ago.
<- Back
Clinical Supervision Framework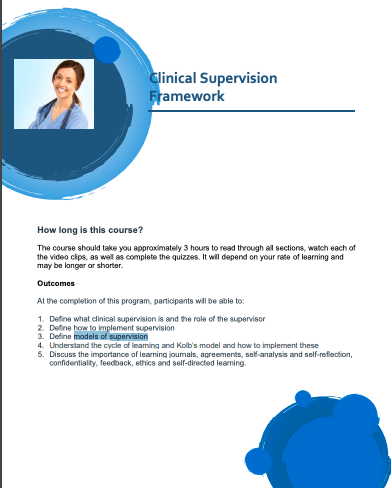 Speciality Classification
Clinical Governance
How long is this course?
The course should take you approximately 3 hours to read through all sections, watch each of the video clips, as well as complete the quizzes. It will depend on your rate of learning and may be longer or shorter.
Outcomes
At the completion of this program, participants will be able to:
1. Define what clinical supervision is and the role of the supervisor
2. Define how to implement supervision
3. Define models of supervision
4. Understand the cycle of learning and Kolb's model and how to implement these
5. Discuss the importance of learning journals, agreements, self-analysis and self-reflection, confidentiality, feedback, ethics and self-directed learning.
Title
Clinical Supervision Framework
Speciality Classification
Interest Areas / Topics Covered
Clinical Governance, Running a Medical Specialty Practice
Provider Type
Education Provider