<- Back
Master of Biomedical Science (Infection and Immunity)
Speciality Classification
Medical Doctors
Location
Camperdown NSW 2050
Duration
1 year full-time / 2 years part-time
Provider
the University of Sydney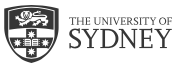 Overview
In response to COVID-19, the University of Sydney has reviewed the availability of courses to be delivered remotely for students commencing their studies in Semester 1, 2021.
Some units of study and/or placements relating to this course cannot be delivered remotely or online for students commencing their study in Semester 1, 2021. You will be required to attend in-person on campus from Semester 2, 2021.
Note: The University intends to offer as many units of study as possible in a remote as well as face-to-face learning method of delivery in Semester 1, 2021 and subject to ongoing border closures and public health orders impacting attendance on campus, in Semester 2, 2021. However, some units of study and courses require students to study in-person at the relevant University of Sydney campus/es and host locations for placements and will not be available remotely.
International students
For detailed information on remote study options for international students in 2021 please read the section below titled 'Options for international students commencing remotely in 2021.'
About this course
The next breakthroughs in the diagnosis and treatment of infectious diseases and immunopathologies will require a workforce with the skills to understand and use a range of cutting-edge techniques and technologies, to interpret medical and research data, and to translate scientific and laboratory findings into clinical practice.
The Master of Biomedical Science (Infection and Immunity) is designed to meet the rapidly growing demand in research and the biomedical industry for graduates who are trained in state-of-the-art clinical laboratory techniques and will equip students for a career in the biomedical sciences.
Why study with us
You will study the latest techniques, developments and breakthroughs in immunology and its application to the diagnosis and treatment of clinically relevant pathogens.
Learn from world-leading medical microbiologists and immunology researchers from across the Faculty of Medicine and Health and its partners including the Marie Bashir Institute for Infectious Diseases and Biosecurity.
Develop expertise in host-pathogen interactions and immunotherapy.
Gain invaluable industry experience and connections when you undertake an industry capstone experience.
The degree can also provide a solid foundation for the pursuit of a career in immunology or infectious diseases research (e.g. a PhD)
Learn in a variety of environments including innovative new teaching and learning spaces, teaching and research laboratories, immersive clinical environments and online.
Leverage the proximity of our location to leading infection and immunity treatment centres including Royal Prince Alfred Hospital at Camperdown and Westmead Hospital – part of the largest hospital complex in the southern hemisphere.
Who should study this course?
The Master of Biomedical Science (Infection and Immunity) is suitable for recent science and health graduates as well as established scientists or clinicians who want to advance their careers in the prevention, diagnosis and treatment of infectious diseases. This degree will allow you to hone and expand your skills and knowledge of the host response to pathogens in a range of careers and settings including infection and immunity research, clinical trials, pathogen diagnostics and therapy (e.g. vaccines).
Course details
Faculty/University School: Faculty of Medicine and Health
Credit points required: 48
Course abbreviation: MBiomedSci(InfectionImmunity)
USyd code: MABMDSFM1000
UAC code: N/A
Study mode: On-campus
Study type: PGCW
Location: Camperdown/Darlington
Duration full time: 1 year full-time
Duration part time: 2 years part-time
What you'll study
In the Master of Biomedical Science (Infection and Immunity) you'll study 48 credit points of subjects, including two 6 credit point core units in Clinical Laboratory Science and Principles in Immunology.
You will also complete up to 24 credit points of stream selective units spanning Virology, Bacteriology, Clinical Immunology and Immunotherapy. Complement your studies with an elective in Global Control of Infectious Diseases or another of your choice before embarking on your 12 credit point capstone which can be an infectious diseases or immunology research project or an industry-related project.
Title
Master of Biomedical Science (Infection and Immunity)
Speciality Classification
Duration
1 year full-time / 2 years part-time
CPD Points
Credit points required: 48
Price Details
Tuition Fee for Domestic Students (Year 1): $29,000 (indicative only)
Location
Camperdown NSW 2050
Tuition Fee for Domestic Students (Year 1): $29,000 (indicative only)