<- Back
Speciality Classification
Medical Doctors
Duration
1.5 years full time / 3 - 5 years part time
Provider
the University of Sydney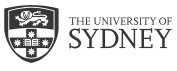 Overview
In response to COVID-19, the University of Sydney has reviewed the availability of courses to be delivered remotely for students commencing their studies in Semester 1, 2021.
This course will be available to study remotely for students commencing in Semester 1, 2021. Please note that some units of study that are not essential to completing the degree may not be available to be studied remotely.
Note: The University intends to offer as many units of study as possible in a remote as well as face-to-face learning method of delivery in Semester 1, 2021 and subject to ongoing border closures and public health orders impacting attendance on campus, in Semester 2, 2021. However, some units of study and courses require students to study in-person at the relevant University of Sydney campus/es and host locations for placements and will not be available remotely.
About this course
This course is only available to students currently enrolled in the Master of Medicine (Metabolic Health) who meet the requirements for admission (see below).
There is a global epidemic of diabetes and obesity and health professionals need to understand these diseases and be equipped to manage them. Our program is developed and delivered by international leaders in the field of diabetes and metabolic health. It provides students with knowledge and skills to manage diabetes, obesity and associated cardiovascular complications in the general population as well as particular groups, such as pregnant women.
This course is suitable for medical practitioners working in primary care, emergency medicine, paediatrics and those planning to train in endocrinology. It will provide you with a unique opportunity to study with your peers and network with clinical and academic leaders.
The course is delivered online with intensive face-to-face components held in the University's new state-of-the-art Charles Perkins Centre research and education hub. We adopt a case based format and provide online tutorials to facilitate discussion and analysis.
Why study metabolic health with us?
This degree has been developed and will be delivered by international leaders in the field of diabetes and metabolic health
This is a unique opportunity to study with like-minded peers and network with clinical and academic leaders
The evidence will be presented using a case based format and there will be frequent online tutorials to facilitate discussion and to help the student apply their learning to 'real world' practice
In a crowded employment market, this degree will signal your competence and interest in this rapidly evolving and important area of clinical practice, and
Face-to-face teaching will be delivered in the University's new, state-of-the-art research and teaching facility – the Charles Perkins Centre.
Commonwealth Supported Places (CSP) are available for this course for eligible domestic students. This means that your course fees are subsidised by the Australian Government and you pay a student contribution amount (SCA). CSP places are limited in number and are allocated based on academic merit.
Course details
Faculty/University School: Faculty of Medicine and Health
Credit points required: 60
Course abbreviation: MMed(Adv)(MetabHlth)
USyd code: MAMEDADV1MBH
UAC code: N/A
Study mode: Online/Intensive
Study type: PGCW
Location: Camperdown/Darlington
Duration full time: 1.5 years
Duration part time: 3 - 5 years
Availability for international students: Not available to student visa holders. International students on other visas with study rights may apply.
What you'll study
The master of medicine (advanced) requires the completion of 60 credit points of units of study including:
48 credit points of coursework units required for the master's
12 credit points of project units of study.
Students complete a research project in an area of specific interest relevant to their master's degree. Students will be guided through the steps required to plan and execute a substantial research project, and prepare a scholarly work which may be a paper for publication.
If you are interested in this option it is recommended that you complete PUBH5018 Introductory Biostatistics as one of your elective units.
Title
Master of Medicine (Advanced) (Metabolic Health)
Speciality Classification
Duration
1.5 years full time / 3 - 5 years part time
CPD Points
Credit points required: 60
Price Details
Tuition Fee for Domestic Students (Year 1): $31,500 (indicative only)
Tuition Fee for Domestic Students (Year 1): $31,500 (indicative only)