<- Back
Speciality Classification
Medical Doctors
Location
Sydney University NSW 2006
Duration
1 year full time / 2 years part time
Provider
the University of Sydney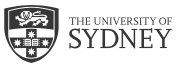 Overview
In response to COVID-19, the University of Sydney has reviewed the availability of courses to be delivered remotely for students commencing their studies in Semester 1, 2021.
This course will be available to study remotely for students commencing in Semester 1, 2021. Please note that some units of study that are not essential to completing the degree may not be available to be studied remotely.
Note: The University intends to offer as many units of study as possible in a remote as well as face-to-face learning method of delivery in Semester 1, 2021 and subject to ongoing border closures and public health orders impacting attendance on campus, in Semester 2, 2021. However, some units of study and courses require students to study in-person at the relevant University of Sydney campus/es and host locations for placements and will not be available remotely.
About this course
Designed for doctors, the Master of Medicine (Infection and Immunity) analyses the fundamental mechanisms of infectious diseases to find improved ways of combating them. This program will help participants to increase their knowledge of infectious diseases, infection control and the immune system.
Why study with us?
As an infection and immunity student, you will learn from leading academics in one of the strongest infection and immunity research disciplines in Australia.
During this one-year degree, you will study a wide range of topics with a focus on improving your understanding of the functions of bacterial and viral genes, the mechanisms of viral and bacterial infections, and the mechanisms involved in the generation and regulation of immune responses.
The program also aims to improve understanding of the principles and practices advocated for prevention and minimisation of infectious diseases in hospitals and laboratories, among the general community, and during disease outbreaks.
It also provides you with training in state-of-the-art laboratory techniques used in the disciplines of infectious diseases and immunology.
The program also provides a solid foundation for the pursuit of a research career.
Who should study this course?
The Master of Medicine (Infection and Immunity) is designed for clinicians who are looking to stay abreast of the latest technologies, treatments and techniques in the field of infectious diseases. We also offer a master in medicine program to other health professionals.
Course details
Faculty/University School: Faculty of Medicine and Health
Credit points required: 48
Course abbreviation: MMed(InfnImm)
USyd code: MAMEINIM1000
UAC code: N/A
Study mode: On-campus day
Study type: PGCW
Location: Camperdown/Darlington
Duration full time: 1 year full time
Duration part time: 2 years part time
What you'll study
The Master of Medicine (Infection and Immunity) consists of 48 credit points (cp), including 24cp of core units and 24cp of elective units of study. All students will undertake two elective units (12cp) in each semester.
Title
Master of Medicine (Infection and Immunity)
Speciality Classification
Duration
1 year full time / 2 years part time
CPD Points
Credit points required: 48
Price Details
Tuition Fee for Domestic Students (Year 1): $29,000 (indicative only)
Location
Sydney University NSW 2006
Tuition Fee for Domestic Students (Year 1): $29,000 (indicative only)