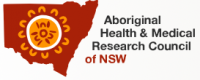 Aboriginal Health and Medical Research Council (AH&MRC)
Business / Practice Details
Business / Provider Type
Education Provider
Services Offered
Events, Education
Business / Provider Profile
The Aboriginal Health and Medical Research Council (AH&MRC) assists the Aboriginal Community Controlled Health Services (ACCHSs) across NSW to ensure they have access to an adequately resourced and skilled workforce to provide high-quality health care services for Aboriginal communities.

The Aboriginal Health & Medical Research Council of New South Wales (AH&MRC), formerly the Aboriginal Health Resource Co-op (AHRC) was established in 1985 following a recommendation of the Brereton Report by the NSW Aboriginal Task Force on Aboriginal Health in 1982-83.

The Report recognised Aboriginal community control as crucial in laying the foundation for a better standard of health care for Aboriginal people. One role recommended for the AH&MRC was to advise Ministers for Health & Aboriginal Affairs at State and Federal levels on Aboriginal health policy, programs and needs.
Why us
If you're looking to upskill in your current role or start a new career in Indigenous health, then studying a nationally recognised course at AH&MRC's Registered Training Organisation (RTO no. 91020) is the perfect way to kick-start your educational journey.

All courses offered through the AH&MRCs RTO have been designed with Aboriginal health in mind. Nationally recognised courses offered through the RTO aim to provide state-of-the-art health care training underpinned by cultural awareness and sensitivity.
35 Harvey Street,
Little Bay NSW 2036, Australia
Claim this profile to receive referrals from this page.
Listing current courses and events posted by Aboriginal Health and Medical Research Council (AH&MRC)
HLT30113 Certificate III in Aboriginal and/or Torres Strait Islander Primary Health Care
This is a nationally recognised course from the HLT Health Training Package.
Speciality Classification
Medical Doctors
Posted By
Aboriginal Health and Medical Research Council (AH&MRC)
Provider Type
Education Provider
Little Bay NSW 2036