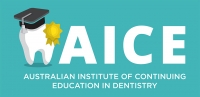 Australian Institute of Continuing Education in Dentistry (AICE)
Business / Practice Details
Business / Provider Type
Education Provider
Services Offered
CPD Courses
Business / Provider Profile
The Australian Institute of Continuing Education in Dentistry (AICE) is a provider of professional development activities for the entire dental team. The new CPD Training Centre on the Gold Coast provides a superior venue for lectures and hands-on workshops. Our renowned local and international lecturers, highly trained staff and commitment to quality contribute to AICE's reputation as a leading dental education provider in Queensland.

AICE was established in 2014 by a group of dedicated dentists and dental specialists whose mission is to provide the best value-for-money contemporary clinical courses. Our goal has been to identify and implement evidence-based approaches in daily practice for the benefit of our patients. We then pass this knowledge onto you through targeted training courses and master classes.

The clinical training facility is conveniently located on the Gold Coast providing South East Queensland practitioners with a local CPD provider. For Interstate dentists the Gold Coast provides a great opportunity to have a short holiday around our CPD events. Our hands-on courses are enriched by the audiovisual facilities within our clinical training rooms, allowing attendees in the conference room to view demonstrations in real time.
Why us
Our scientific committee consists of Prof Vasilios Chornopolis and Prof Saso Ivanovski, both who are renowned clinicians, chosen based on their scientific expertise in the field of dentistry. They make special effort identifying promising young people to present at AICE.
39 White Street,
Southport QLD 4215, Australia
Claim this profile to receive referrals from this page.
Listing current courses and events posted by Australian Institute of Continuing Education in Dentistry (AICE)
MANAGING METAL-CERAMIC & ALL-CERAMIC RESTORATIONS
Apply contemporary preparations design to everyday clinical practice
Speciality Classification
Oral Health
Posted By
Australian Institute of Continuing Education in Dentistry (AICE)
Provider Type
Education Provider
Southport QLD 4215