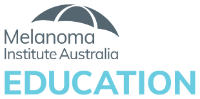 Melanoma Institute Australia (MIA)
Business / Practice Details
Business / Provider Type
Education Provider
Services Offered
Events, Education
Business / Provider Profile
Melanoma Institute Australia (MIA) pioneers advances in melanoma research and treatment and has a global reach. We are a non-profit organisation dedicated to preventing and curing melanoma through innovative, world-class research, treatment and education programs.

MIA is a national network of melanoma researchers and clinicians based in Sydney at the Poche Centre – the world's largest melanoma research and treatment facility. Our medical specialists and researchers pioneer new research, conduct clinical trials, develop new treatments and promote awareness of melanoma to clinicians and the community.

MIA is an accredited provider for the Royal Australian College of General Practitioners (RACGP), and provides accredited content from Australian College of Remote and Rural Medicine (ACRRM), Australian College of Nursing (ACN), Australian Practice Nurses Association (APNA) and the Australasian College of Dermatologists.
Why us
As one of the three key pillars of MIA, our aim is to create a melanoma education ecosystem translating world-leading clinical research and clinical practice into global excellence in knowledge and outcomes that will ultimately improve patient care.

MIA education programs will contribute to ensuring best practice and equity of care on a national and international level.

This website and our educational programs are funded by MIA as part of our education mandate to improve the standard of care for melanoma patients. In addition, we gratefully receive support from third-party sponsors. Any sponsorship involvement will be clearly acknowledged.
40 Rocklands Road,
Wollstonecraft NSW 2065, Australia
Claim this profile to receive referrals from this page.
Listing current courses and events posted by Melanoma Institute Australia (MIA)
No matching course or event posts found.