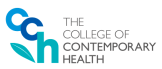 The College of Contemporary Health
Business / Practice Details
Business / Provider Type
Education Provider
Business / Provider Profile
At The College Of Contemporary Health (CCH), our mission is to make all healthcare professionals proficient in weight management and obesity care. By furthering expertise in the field across every specialism – from paediatric obesity to reproductive health, we aim to mitigate the impact of costly co-morbidities directly linked to excess weight and obesity. Established in 2013, we are a fully online college that combines flexible online learning with world-class academic tuition for healthcare professionals.
Why us
Online Teaching Approach
Highly Efficient Study Methods
All our courses are visually stimulating and interactive, which is proven to boost retention. Content is designed to be current, applicable, reliable, and evidence-based.

Academic Advisory Board
Our board are key opinion leaders in their field – both in research and clinical practice. They oversee our curriculum and support our expert professional tutors.

Your Own Schedule
CCH offers the flexibility to learn at your own pace, at a time and place that suits you. With no need to travel to a classroom, your valuable time can be used more productively.

Digital Media
We combine bite-size videos, podcasts, and other interactive digital resources to make your learning as rich and engaging as possible, as well as accessible on-the-go.

Discussion Forum
Although we're online, we still provide active participation through group discussion forums, case studies, and scenarios. This helps build a community with your fellow students.

Wide Resource Library
You'll have access to both CCH and our partners' scientific literature databases. These are easy-to-use and continually updated with the very latest in best practice and research.
Technopark, 90 London Road,
London ZOTHER SE1 6LN, United Kingdom
Claim this profile to receive referrals from this page.
Listing current courses and events posted by The College of Contemporary Health
No matching course or event posts found.