Premium Employer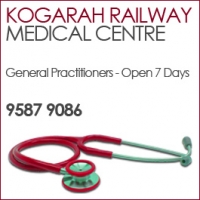 Kogarah Railway Medical Centre
Profile Summary
Kogarah Railway Medical Centre – Bulk Billing GP Medical Centre in Kogarah

Kogarah Railway Medical Centre offers comprehensive health care for any presenting condition, as well as to aid in detecting possible health risks for all of our patients. Essentially, we aim is to achieve the best possible health outcomes for all of our patients.

Our skilled male and female doctors are responsible for your medical needs and work together to offer a wide range of general practice services, including:

General health assistance
Women's health
Men's health
Children's health
Family health
Onsite pathology collection
Counselling
Nutritional advice
Sports medicine
Skin checks
Psychology
Physiotherapy
Nurse services
Special Interests / Key Therapy Areas
Area Insights
Opening hours

Monday
8:00am - 6:00pm
Tuesday
8:00am - 6:00pm
Wednesday
8:00am - 6:00pm
Thursday
8:00am - 6:00pm
Friday
8:00am - 6:00pm
Saturday
8:00am - 2:00pm
Sunday
9:30am - 4:00pm
Why work with us
For added convenience, there are also a range of other allied services available, including physiotherapy, psychology, dietetics, and pathology collection on-site. There is also a Terry White Pharmacy is conveniently located within the same building.

We are conveniently located in the Kogarah Town Centre, on Railway Parade in Kogarah. we welcome those who live or work in Kogarah, and surrounding areas such as Rockdale, Beverley Park, Allawah and Bexley.

As a bulk billing practice, we offer bulk billing to all patients holding a valid Medicare card for all Medicare eligible procedures. This means no out-of-pocket cost for most general consultations. For those without Medicare cards, our standard appointments are $50 and long appointments cost $80. New patients are welcome and no extra fees apply.

Our practice has appointments available 7 days a week. Specifically our hours are 8 - 6pm Monday to Friday, 8 - 2pm on Saturday, and 9.30 - 4pm on Sunday. Kogarah Railway Medical Centre provides after hours care for patients through Sydney Medical Service between the hours of 6pm to 8am. Please call to arrange a Doctor's home visit. For standard GP appointments within our opening hours, book an appointment online now by selecting an appropriate time from the appointments listed above.
Shop 1A, Kogarah Town Centre 1 Railway Pde,
Kogarah NSW 2217, Australia
Current jobs posted by Kogarah Railway Medical Centre
Job Listing - Promoted Post
GP
We are looking for Doctors to join our practice to work any hours that suit your lifestyle whether full-time or part-time. Weekend work available if d...
Job Classification
General Practice / GP
Salary:
% on Billings - 65% to 70%
Start Timeframe:
Immediately
Kogarah NSW 2217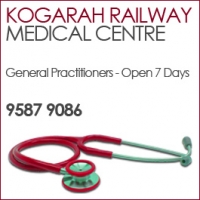 Practice Nurse (Registered Nurse)
A Practice Nurse (RN) is required at Kogarah Railway Medical centre. General Practice experience desired but not essential.
Job Classification
Registered Nurse (General)
Posted By:
Kogarah Railway Medical Centre
Start Timeframe:
Immediately