This post has expired! It was posted more than 90 days ago.
<- Back
2023 Annual ASAPS Conference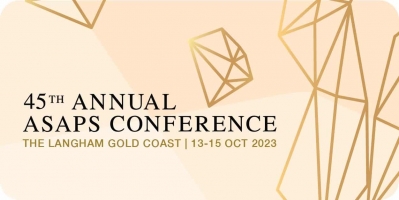 Speciality Classification
Medical Doctors
Location
38 Old Burleigh Road, Surfers Paradise QLD 4217, Australia
Venue
The Langham Gold Coast
Provider
The Langham Gold Coast

The Australasian Society of Aesthetic Plastic Surgeons (ASAPS) is excited to be hosting the 45th Annual Conference on 13th-15th October at the Langham Hotel, Gold Coast.
We all strive for perfection in our profession to provide our patients with optimal surgical outcomes in an optimal environment. A defining feature of our specialty is that we have insight into our limitations and strive to become better. Plastic surgery is therefore a progressive specialty and plastic surgeons are nimble adaptors. The Annual ASAPS conference is the setting for nurturing new ideas and consolidating well-known practises, and true to our motto, we are all about Excellence in Cosmetic Surgery. This year, our Conference will include esteemed local speakers and renowned international surgeons sharing their expert pearls and tips in facial and breast surgery. The 2023 ASAPS meeting is ideally timed, as it follows the MAFAC post graduate cadaver course. Our setting is the beautiful, new Langham hotel in Spring.
Who can attend?
The ASAPS Annual Conference is held exclusively for Specialist Plastic Surgeons, plastic surgery registrars and plastic surgery staff.
The Focus
Building on the strengths of our past meetings, the ASAPS Annual Conference will provide attendees with the very latest tools, techniques and thoughts in the arena of aesthetic surgery so that surgeons and their practice staff can emulate excellence in all they say and do.
There will be something on offer for everyone with the scientific program covering facial and breast surgery. In addition, we will have an onsite practice managers tour and an Aesthetic Breast Day to educate our younger fellows on setting up practice and the nuances of breast augmentation surgery.
Business Management Sessions
Running in parallel with the conference will be a business stream aimed at equipping Practice Managers with the tools and information to grow and sustain their practices.
Topics that will be covered include HR issues, social media and marketing tips, ideas and advice on patient management and increasing customer satisfaction, to name just a few.
Check back here regularly for program updates.
The Festivities
An integral component to the success of the ASAPS Annual Conference are the social engagements which provide attendees an invaluable networking opportunity in an informal setting. The Gala Dinner will be at The Island, Glasshouse.
Title
2023 Annual ASAPS Conference
Speciality Classification
Interest Areas / Topics Covered
Aesthetics
Provider Type
Associations
Price Details
ASAPS Non Members $2890 | ASAPS / NZAPS / ISAPS Members - Australasian P&RS Trainees / Associate ASAPS / Nurse Practitioner / Registered Nurse / Practice Manager / Practice Staff $1668
Location
38 Old Burleigh Road, Surfers Paradise QLD 4217, Australia
Venue
The Langham Gold Coast