This post has expired! It was posted more than 90 days ago.
<- Back
2023 Overcoming Indigenous Family Violence Forum (Two Day Forum + Workshop)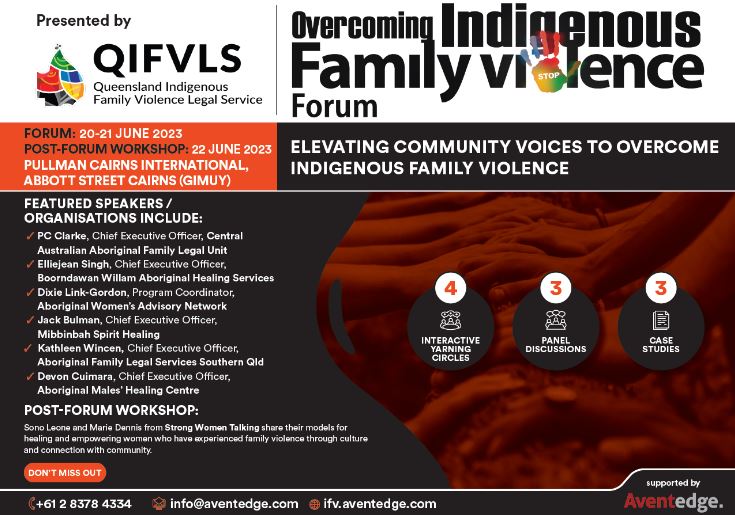 Speciality Classification
Allied Health
Venue
Pullman Cairns International

Developing culturally appropriate and safe services for Aboriginal and Torres Strait Islander Women who have experienced Domestic and Family Violence
Strong Women Talking impart their expertise in developing and delivering services and resources for Aboriginal and Torres Strait Islander women that focus on healing and survival after family violence. The workshop will focus on the importance of empowering women as survivors rather than victims and operates within a trauma-informed framework that promotes cultural safety.
Key Learning Objectives
You will leave the workshop equipped with the practical knowledge and tools to upskill yourself and your staff when working with Aboriginal and Torres Strait Islander women and girls who have experienced family violence to deliver positive outcomes for women, families and communities. You will learn to identify opportunities for early intervention amongst young women and within families and enhance your relationships with the communities you work in to build trusting relationships. You will improve and enhance your organisation's capacity to create adaptable and place-based resources that can be tailored to the unique needs of different families and communities.
Modules / Topics
8.30 | Registration
9.00 | Session One
10.15 | Morning Tea
10.45 | Session Two
12.00 | Lunch
1.00 | Session Three
2:00 | Afternoon Tea
2:30 | Session Four
3.30 | Workshop Wrap Up
4.00 | End of Day
Instructors / Speakers
Sono Leone,
Chief Executive Officer Strong Women Talking
Sono Leone has a career spanning over 20 years working in the Brisbane Northside community services sector, particularly within the Aboriginal and Torres Strait Islander community. Over the last 10 years Sono has worked within different leadership capacities and completed different leadership studies with Australians Indigenous Leadership Centre and, more recently, Australians Together. Sono was one of 11 Aboriginal & Torres Strait Islander women on Our Watch's Advisory Group for the Change the Picture Resource. Sono is also a part of Wesley Mission QLD's RAP committee and also serves on different Boards within the community and abroad, including ID Know Yourself, supporting children in out of home care.
Today she is the Founder & CEO of Strong Women Talking Aboriginal & Torres Strait Islanders Corporation. Sono develops programs to upskill participants and service providers with Cultural awareness, trauma informed training and understanding the drivers of violence. Sono is an advocate for the prevention of violence and creates culturally safe spaces for Aboriginal and Torres Strait Islander women to unpack and learn about the cycle of violence. She has a passion to see the cycle of domestic and family violence broken within communities for generations to come.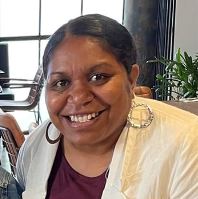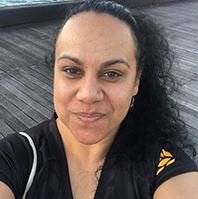 Marie Dennis,
Independent Consultant Ree Ree's Consultancy
Marie Dennis is an Independent Consultant with over 20 years of experience in the Community Servicing Sector. Marie is passionate about providing Individuals and Communities support through guidance, instilling courage and providing access to essential tools on their journeys toward self-empowerment, self-determination and holistic wellbeing. Her career has expanded over many different spaces, including Federal Government, Not for Profit Organisations, Community Servicing & Engagement, Youth Work, Children in Out of Home Care, Domestic and Family Violence, Case Coordination & Management, Program Development & Management, Education, Training and Development. Previously Chairperson of the board for Murri Sisters, she has since continued to provide mentoring and support for women working in the Domestic and Family Violence Space. Marie currently works with Strong Women Talking at a leadership level through service expansion, enhancing approaches to service delivery and strategic direction operations.
Title
2023 Overcoming Indigenous Family Violence Forum (Two Day Forum + Workshop)
Speciality Classification
Interest Areas / Topics Covered
Family trusts & asset protection
Provider Type
Education Provider
Venue
Pullman Cairns International