<- Back
COVID-19 vaccination in Australia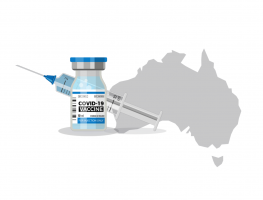 Speciality Classification
Nurses and Midwives
Provider
My Midwifery & Nursing CPD (MNCPD)

Overview
Coronavirus disease 2019 (COVID-19) is caused by severe acute respiratory syndrome coronavirus 2 (SARS-CoV-2). The COVID-19 pandemic has led to a dramatic loss of human life and has severely affected the global economy and financial markets.
Recurrent waves of COVID-19 infections are expected to circulate for as long as susceptible human hosts are available.
Research indicates that protection from the virus through herd immunity can be achieved more quickly and safely through vaccination rather than natural infection. Vaccines may also produce a greater, more protective, and longer lasting immune protection.
This module provides an overview of COVID-19 and vaccination in the Australian context. It outlines vaccine technology and development, including the assessment process for COVID-19 vaccine candidates.
The module also provides information about the two vaccines provisionally approved for use in Australia, the Pfizer/BioNTech and AstraZeneca/Oxford vaccines, the vaccine with provisional determination, the Novavax vaccine, as well as Australia's vaccine procurement and rollout strategies.
Learning Objective
At the end of this module participants will be able to:
Discuss the nature of the SARS-CoV-2 structure, infection, and herd immunity.
Describe the five main types of vaccines.
Understand the conventional vaccine development pathway, and the COVID-19 vaccine development pathway.
Describe the Australian Government's vaccine procurement strategy.
Discuss key information about the Pfizer/BioNTech, AstraZeneca/Oxford, and Novavax vaccines.
Explain Australia's national COVID-19 vaccination rollout plan.
Title
COVID-19 vaccination in Australia
Speciality Classification
Provider Type
Education Provider
Price Details
Contact provider for module fees
Contact provider for module fees