This post has expired! It was posted more than 90 days ago.
<- Back
Disability Care Quality, Safety and Reform Forum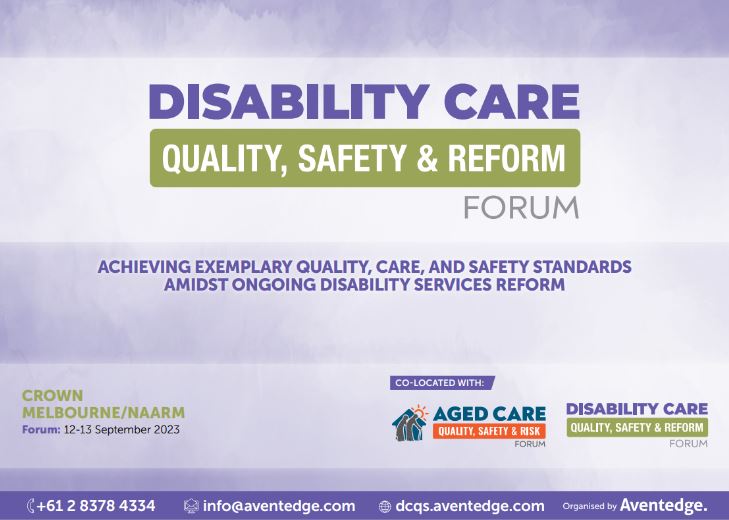 Speciality Classification
Management and Administration
Location
8 Whiteman St, Southbank VIC 3006
Venue
Crown Conference Centre

Achieving exemplary quality, care, and safety standards amidst ongoing disability services reform
The NDIS was a major focus of the recent budget and has been the subject of intense political scrutiny in recent months. The release of the final report from the Royal Commission is also due later this year. Never has the political and media microscope been so firmly fixed on the quality and safety of the sector.
The Disability Care Quality, Safety and Reform Forum will feature presentations and panels from leading organisations on subjects such as:
How can providers and vendors gain clarity on, and prepare for, the upcoming reforms?
How can you help enhance the capacity and capabilities of your workforce to deliver exceptional high-quality care?
How can you embed organisation wide governance frameworks, integrate participant voices, and transform legacy practices to improve the safety and quality of your organisation?
Attending offers the opportunity to gain a snapshot of what other organisations are doing to overcome the sector's most pressing challenges, as well as the chance to forge connections that will strengthen your quality, safety, and risk outlook.
Why Attend?
Hear from Yooralla about their journey to embedding the voice of clients and staff with a disability into their service design
Forge the frameworks to address the governance of the clinical setting, risk scenarios, and more
Upskill the capabilities and capacities of your workforce to improve quality of care
Explore alternative models of disability housing and how to ensure participants have access to adequate accommodation
Learn how to identify the safeguarding data that matters and how it can be used to improve your quality outcomes
Discover how you can increase the employment of people with disability to improve your workforce and care quality
Instructors / Speakers
Dr Akihiro Nakamura,
Policy and Compliance Manager – Office of the CEO, Possability
Dr Akihiro Nakamura is currently a Policy & Compliance Manager, Possability Group. He is responsible for advising, developing and improving various business frameworks such as governance, risk, compliance, policy and information security. He received his PhD in Public Policy from the University of Tasmania in 2011. He has built considerable experience in policy and legal work in government, university and law firm in Australia, Norway, Japan, and Vietnam.


Tricia Malowney,
Chief Accessibility Advocate Victorian Department Of Transport
Tricia Malowney OAM is the Chief Accessibility Advocate for the Victorian Department of Transport.  Tricia is a senior member of the Disability Leadership Institute and works to bring a gender lens to Disability Sector and a disability lens to mainstream services.  She provides an advocacy consultancy to government and non-government agencies in her consultancy business.
Tricia is a member of the NDIA Independent Advisory Council, a Director at the Urgent Action Fund for Women, Asia Pacific and has taken a leave of absence from Melba Support Services. Tricia is a member of the Fire Rescue Victoria Strategic Advisory Council.  She is chair of the Client Advisory Committee at Outlook Australia 
Title
Disability Care Quality, Safety and Reform Forum
Speciality Classification
Interest Areas / Topics Covered
Disability
Provider Type
Education Provider
Location
8 Whiteman St, Southbank VIC 3006
Venue
Crown Conference Centre