This post has expired! It was posted more than 90 days ago.
<- Back
Foundation | Comprehensive training for new doctors
Speciality Classification
Medical Doctors

Endorsed By
Academy of Medical Royal Colleges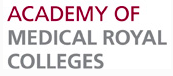 Foundation training for doctors
This world-class e-learning resource helps newly qualified doctors to develop the skills, understanding and attitudes to become proficient and caring medical practitioners. It is relevant to clinicians across the world.
Enhancing professional and clinical skills
The programme covers the core clinical and professional skills and behaviours needed by doctors, from trust through to communication, leadership, ethics, safety and quality improvement. The content includes many interactive features, such as video clips, animations and questions, which help to put theoretical knowledge into a practical context.
Using scenario-based exercises, you can test your clinical skills in diagnosing and managing a patient case by reviewing clinical data and a medical history in a virtual consulting room.
Written by doctors for doctors
Written by clinical experts in the UK, the Foundation programme has been developed by the Academy of Medical Royal Colleges, the UK Foundation Programme Office and Health Education England e-Learning for Healthcare. It is mapped to UK Foundation training but the themes are relevant to healthcare professionals globally.
Easy online access
You can access this e-learning online so you can study at home, in work or even on the move.
Testimonials
With expertly developed content that covers all core clinical topics, the Foundation e-Learning Programme is an invaluable resource for doctors embarking on their medical careers.
Professor Stuart Carney, Deputy National Director, UK Foundation Programme
Inclusions
Certificate of completion
Modules / Topics
Section 1 Professional behaviour and trust
Professional Capability:
Acts professionally
Delivers patient-centred care and maintains trust
Behaves in accordance with ethical and legal requirements
Keeps practice up to date through learning and teaching
Section 2 Communication, team-working and leadership
Professional Capability:
Communicates clearly in a variety of settings
Works effectively as a team member
Professional Capability:
Recognises, assesses and initiates management of the acutely ill patient
Recognises, assesses and manages patients with long-term conditions
Obtains history, performs clinical examination, formulates differential diagnosis and management plan
Requests relevant investigations and acts upon results
Prescribes safely
Is trained and manages cardiac and respiratory arrest
Demonstrates understanding of the principles of health promotion and illness prevention
Manages palliative and end of life care
Section 4 Safety and quality
Professional Capability:
Recognises and works within limits of personal competence
Makes patient safety a priority in clinical practice
Contributes to quality improvement
Features

Learn essential clinical care and professional skills

Highly engaging content, with videos, animations and exercises

Relevant to doctors across the world
Title
Foundation | Comprehensive training for new doctors
Speciality Classification
Provider Type
Education Provider
Access Duration (in months)
12