This post has expired! It was posted more than 90 days ago.
<- Back
High Performance Clinical Governance in Healthcare (Masterclass)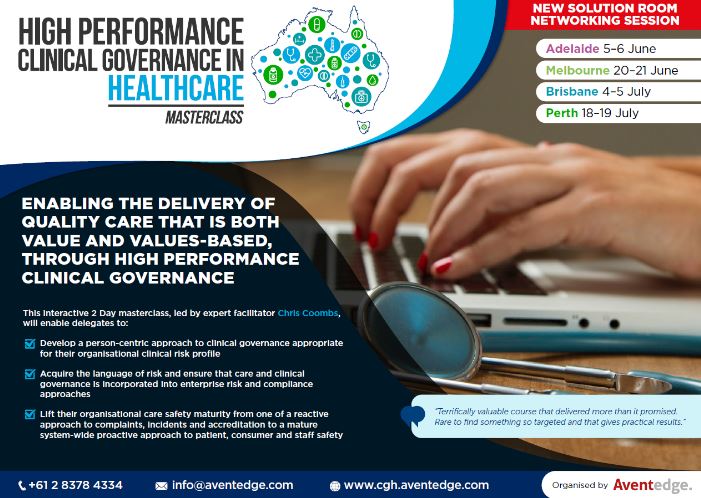 Speciality Classification
Management and Administration

NEW FOR 2023 - SOLUTION ROOM NETWORKING SESSION!
One in every nine patients who goes into hospital in Australia suffers a complication – about 900,000 patients each year. If they stay overnight, the figure rises to one in four – about 725,000 patients each year.
Whilst those receiving care may encounter poor care and harm, providers risk severe impact to their reputation, loss of funding, termination of contracts, and incurring substantial liability costs and loss of workforce. With such potential risk and rapid change continuing across the healthcare sector there is a renewed urgency for high performance clinical governance, risk management and a mature approach to accreditation, with visibility and accountability to governing body level.
Back for its third installment, this interactive 2-day masterclass, led by expert facilitator Chris Coombs, will enable delegates to:
Develop a person-centric approach to clinical governance appropriate for their organisational clinical risk profile
Acquire the language of risk and ensure that care and clinical governance is incorporated into enterprise risk and compliance approaches
Lift their organisational care safety maturity from one of a reactive approach to complaints, incidents and accreditation to a mature system-wide proactive approach to patient, consumer and staff safety
WHO SHOULD ATTEND
This masterclass is suitable for clinicians and those with no clinical background; those in roles of accountability for governance, quality and safety, risk, compliance, strategy, general management and supply chain management.

It is designed with the unique challenges of complex, innovative and rapidly changing models of healthcare delivery in mind and the interface of clinical risk management with strategy.
Founders/CEOs of start-ups
Executive Team Members
Clinical/Medical Directors
Clinical Governance/Clinical Governance Managers
Risk/Chief Risk Officers
Quality Managers
COO
CEO
Non-Executive Directors/Governance Committee Members
Primary Health and Community Managers
WHY ATTEND
Understand clinical governance and how it improves efficiency and practice, prevents incidents, manages risk, enables accreditation and shares accountability for good practice across all levels of staff
Discover ways to achieve effective clinical governance, the systems to have in place and the optimisation opportunities
Understand patient, community, government and regulatory expectations
Learn the strategies used by high performing organisations
Protect your clinical and organisational reputation by mitigating risk from a reactive approach to complaints, incidents and issues and potential costly claims and move to a mature proactive approach
Determine what a "right-sized" approach to clinical governance is for your organisation and how to integrate this into existing risk/compliance/quality systems
Identify what to measure and how to measure it to ensure accountability for quality and safety, throughout your organisation
Utilise strategies and tools to ensure your clinical safety
Develop the organisational culture and leadership required to support sound clinical governance and foster high quality, reliable and resilient care
Modules / Topics
SESSIONS COVERED OVER TWO DAYS
Course Duration:  9:00-5:00 including networking breaks | Morning Tea: 10:30 / Lunch: 12:30 / Afternoon Tea: 3:00
Defining Clinical Risk and Clinical Governance
Establishing the Fundamentals of Clinical Governance in Consumer Centred Care 
Deliver Impactful Leadership for Clinical Governance  
Assessing the Clinical Governance Needs of your Service
Successfully Integrate Clinical Governance into Risk Management, Compliance and Quality Systems  
Identifying and Using Tools to Effectively Identify, Investigate and Manage Clinical Risk
Effective Monitoring of Clinical Quality and Safety  
When Things Go Wrong: Responding to Crises  
Instructors / Speakers
Chris Coombs,
Principal Consultant
Chris Coombs is the Principal Consultant for her own business as a health, disability and management consultant.  Seen as an ambassador for change – Chris is a champion of clinical/corporate governance with capacity to transform vision into reality and take organisations on the journey of quality and clinical governance.  
She has built her consultancy over the preceding seven years assisting organisations to develop and grow systems at all levels of the organisation toward a safe, quality and efficient business and she is also an Adjunct Professor of Health and Nursing at the University of New England providing support and education to staff and students on safety, quality and governance issues. 
Chris is also an NDIS health, ISO9001 and ACIS lead auditor having completed over 500 audits as lead auditor and provides auditor training and oversight to new and emerging auditors. 
Prior to this Chris worked as a senior manager in the health system for over 35 years. She has managed both small and large facilities and is recognised as a leader in nursing. She brings a wealth of experience in relation to acute, sub-acute, rural, metropolitan, community and academia.  In her roles she has been responsible for many change projects and has been responsible for major investigations in relation to clinical and non-clinical issues.  
She is a registered Nurse holding a Bachelor of Health Science and a Masters degree where her thesis focused on "from quality assurance to process improvement".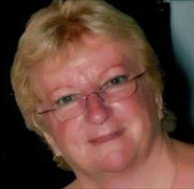 Title
High Performance Clinical Governance in Healthcare (Masterclass)
Speciality Classification
Interest Areas / Topics Covered
Clinical Governance
Provider Type
Education Provider