<- Back
Speciality Classification
Allied Health
Location
Sydney University NSW 2006
Duration
2 years full time for Domestic and International students
Provider
the University of Sydney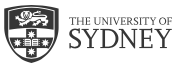 Overview
In response to COVID-19, the University of Sydney has reviewed the availability of courses to be delivered remotely for students commencing their studies in Semester 1, 2021.
Some units of study and/or placements relating to this course cannot be delivered remotely or online for students commencing their study in Semester 1, 2021. You will be required to attend in-person on campus from Semester 2, 2021.
Note: The University intends to offer as many units of study as possible in a remote as well as face-to-face learning method of delivery in Semester 1, 2021 and subject to ongoing border closures and public health orders impacting attendance on campus, in Semester 2, 2021. However, some units of study and courses require students to study in-person at the relevant University of Sydney campus/es and host locations for placements and will not be available remotely.
International students
For detailed information on remote study options for international students in 2021 please read the section below titled 'Options for international students commencing remotely in 2021.'
About this course
The Master of Physiotherapy develops the ability to use highly-developed clinical reasoning skills to assess, diagnose and treat people with movement problems caused by a wide variety of joint, muscle, nerve and metabolic disorders. You will also learn to help people avoid injuries and maintain a fit and healthy body.
As a physiotherapy student, you will learn from leading academics how to use a range of drug-free techniques to treat and prevent injuries, as well as promote a healthy body. In addition to the high-profile sports side of physiotherapy, graduates also practice in roles that contribute significantly to the wider community, such as the management of neurological conditions, movement disorders, rehabilitation and recovery.
During this two-year degree, you will explore introductory and advanced musculoskeletal, neurological, and cardiopulmonary physiotherapy, applied to patients across the lifespan. Biomechanics, occupational health and community health are incorporated in various units of study, and evidence-based practice and professional practice are embedded throughout the curriculum. Four five-week clinical placements in your second year will provide the opportunity for you to apply your knowledge and gain significant practical experience in a range of clinical areas including rehabilitation, acute care, ambulatory care/outpatients and community/general care.
Course details
Faculty/University School: Faculty of Medicine and Health
Credit points required: 96
Course abbreviation: MPhty
USyd code: MAPHYSIO1000
UAC code: N/A
Study mode: On-campus day
Study type: PGCW
Location: Camperdown/Darlington campus
Duration full time: 2 years full time for Domestic and International students
Duration part time: Not available part time
What you'll study
You will follow a prescribed course of study with a total 96 credit points (cp).
Year 1
Cardiopulmonary Physiotherapy
Musculoskeletal Physiotherapy IA & IB
Neurological Physiotherapy
Neurological and Cardiopulmonary Physio
Musculoskeletal Physiotherapy II & III
Physiotherapy across the Lifespan
Year 2
Physiotherapy Practicums 1, 2, 3 & 4
Musculoskeletal Physiotherapy IV
Physiotherapy Health Care and Society
Advanced Physiotherapy Practice
Advanced Clinical Reasoning
Title
Master of Physiotherapy
Speciality Classification
Duration
2 years full time for Domestic and International students
CPD Points
Credit points required: 96
Price Details
Tuition Fee for Domestic Students (Year 1): $43,500 (indicative only)
Location
Sydney University NSW 2006
Tuition Fee for Domestic Students (Year 1): $43,500 (indicative only)