This post has expired! It was posted more than 90 days ago.
<- Back
OET Pulse for Radiologist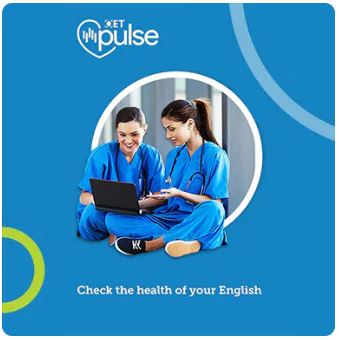 Speciality Classification
Radiology

OET Pulse assesses your current English language level and provides helpful feedback on how to prepare for OET. It assesses your reading and listening skills as well as your language knowledge.
OET Pulse takes around 30 minutes and can be accessed on any device, anytime and anywhere.
Test scenarios are healthcare-specific
Test is adaptive, making it more efficient and accurate
Provides feedback on how to prepare for OET
Results are immediate.
Designed for healthcare professionals, OET Pulse is a key preparation tool to help you get a better understanding of your English level.
OET Pulse is the world's only English language placement test specifically made for healthcare professionals.
Please note: This is a placement test, not OET. You will not be able to submit your OET Pulse results to organisations that accept OET results.
Disclaimer:
Please note that due to the different question types for OET Pulse differing to the OET Test, and that it only assesses your medical reading, listening and language skills, your score and the associated recommendations should be considered general in nature only. Your use of this test and the recommendations is entirely at your own risk, for which we shall not be liable.
Title
OET Pulse for Radiologist
Speciality Classification
Interest Areas / Topics Covered
Communication skills
Provider Type
Education Provider