This post has expired! It was posted more than 90 days ago.
<- Back
Overcoming Nursing & Midwifery Workforce Challenges Forum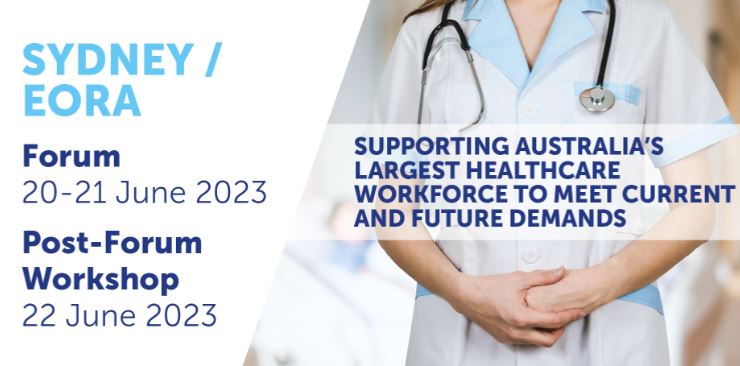 Speciality Classification
Nurses
Venue
Balcony Level, Cockle Bay Wharf, Darling Park NSW 2000

From the cradle to the grave, nurses and midwives will play a part in everyone's life at some stage. Yet, for too long they have been neglected. Platitudes about being 'angels and heroes' will not cut it!
Rather, the hardworking nursing and midwifery professionals across healthcare, aged care, and disability care want the fair wages, safe working conditions and promising career pathways they deserve.
Thankfully among their ranks, there are many undertaking exciting projects aimed at reducing workforce shortages, improving working conditions and developing the skillsets of their staff, in turn cementing nursing and midwifery as one of the most rewarding careers from graduation through to retirement one can undertake.
Attending the Overcoming Nursing and Midwifery Workforce Challenges Forum will present the opportunity to collaborate with nursing and midwifery peers. It will also expose you to different strategies that can act as a catalyst to overcoming the problems hampering your workplace.
REASONS TO ATTEND
Hear three CNMOs propose their plans for future workforce success
Develop industry partnerships to ensure graduates smoothly transition into the workforce
Accelerate your career pathway by connecting with leaders and innovators in the nursing & midwifery sector
Learn about how investing in recruitment leads to better retention
Create an environment of empowerment and value to improve employee satisfaction
Encounter holistic health models of continuity care, sustainable practices and keep up to date with the latest technological advancements
Facilitate the development of your workforce for wherever their career takes them
Discover the benefits of working in rural and remote Australia
WHO SHOULD ATTEND
Healthcare Providers (Hospitals, Aged Care, GPs, Disability Care), Peak bodies, Unions, Training/Educational Institutions, Regulators, Talent recruitment, Human Resource Specialists
Job titles including:
Directors of Nursing and Midwifery
Nurse unit managers
Midwifery managers
Clinical Specialists
Hospital Executives
Heads of, CEOs, GMs
Modules / Topics
Forum Day 1 - 20th June 2023
08:45
Chairperson's Opening Address

RETENTION

09:00
CNMO Fireside chat: Exploring the difficult question of how to solve staff shortages in the sector
Comparing the various viable responses to what is truly a global conundrum

Identifying what measures can be implemented immediately to overcome short term challenges

Future proofing the nursing and midwifery workforce
10:00
Changing workplace conditions and culture to improve attraction and retention
Identifying what needs to be altered and how to do so

Embedding the right structures to support staff whilst maintaining quality outcomes

Overcoming barriers to recruiting overseas workers
10:30
Morning Tea
11:00
Tracking what the growth of digital health will mean for the nursing and midwifery workforce and the preparations you need to make
Aligning the skills of the current workforce with those needed for the future

Predicting what changes will arise due to emerging technologies
RECRUITMENT

11:30
Case study: How SJOG have benefitted from taking the time to invest in recruitment to produce better long term outcomes
Developing the best process to acquire the right people for your organisation

Assessing whether experience is the most vital requirement for prospective candidates
12:00
Lunch
01:00
Safeguarding the presence of Enrolled Nurses whilst increasing Registered Nurses in the Aged Care Sector
Deterring organisations from reducing their number of ENs by highlighting the pressures it will place on RNs and the impact on outcomes

Identifying policy levers that can protect the positions of Enrolled Nurses and aid in the recruitment of Registered Nurses
01:30
Round Tables - Interactive solution-focused sessions
These 2x30 minute interactive sessions allow for an extended discussion among a small group and are excellent for giving and receiving targeted feedback.
02:30
Afternoon Tea
03:00
Panel: Guaranteeing that education pathways are producing graduates ready for current and future needs
Readying graduates to possess the right skillset so they can meet nursing and midwifery employment needs

Stimulating graduates to continue developing and learning over the course of their career
VALUE

04:00
Insights into strategies currently used by Nurse Unit Managers to manage culturally and linguistically diverse (CALD) nursing teams to improve staff integration and clinical safety
Highlighting the service delivery and personal impacts on them

Discussing current gaps in organisational support available and what needs to change
04:30
Networking Drinks
Forum Day 2 - 21st June 2023
08:45
Chairperson's opening address
WORKPLACE CONDITIONS
09:00
Keynote: Identifying what insights can be gained from working in rural and remote Australia
Discussing initiatives that can help in the retention and development of graduates

Conveying how fulfilling working in rural and remote Australia can be
09:30
Panel: Upskilling nurses to ensure they have the right skillset across the sector
Guaranteeing that nurses have the mixture of skills to fulfill the requirements of their position

Facilitating further development of established professionals to broaden and enhance their skillset
10:30
Morning Tea
11:00
Empowering a workforce that has been ignored and undervalued for too long
Making space for nurses and midwives to have their voices heard by the right ears

Ensuring the nursing and midwifery workforce feel valued for their work
SUSTAINABILITY
11:30
Beyond the bedside: Multidimensional roles of nurses and midwives in responding to climate change-related threats to health and healthcare systems
Detailing the minor and major changes that can be implemented

Identifying the levers that can be utilised to shape the policy, professional standards and other programs to create a greener workplace
12:00
Lunch
01:00
Facing fatigue and burnout to mitigate its impact on care provided – what strategies can you implement?
Caring for a workforce which has been under immense pressure through integrating greater flexibility in rostering

Supporting the workforce to continue maintaining exemplary care in the midst of challenging circumstance
01:30
Round Tables - Interactive solution-focused sessions
These 2x30 minute interactive sessions allow for an extended discussion among a small group and are excellent for giving and receiving targeted feedback.
02:30
Afternoon Tea
CLINICAL RESEARCH
03:00
Case study: Addressing Obstetric violence in Australia to improve patient experience and service quality
Highlighting the prevalence and incidence of obstetric violence in the healthcare sector

Providing guidance when working with victims of obstetric violence
04:00
Chairperson's closing address & networking drink
Instructors / Speakers
Professor Alison McMillan,
Commonwealth Chief Nursing and Midwifery Officer, Australian Department Of Health And Aged Care
As the Commonwealth Chief Nursing and Midwifery Officer Alison provides high-level strategic policy advice to the Australian Government and the Executive and staff within the Department of Health and Aged care on nursing, midwifery, health system reform, health workforce, regulation and education.
Alison has been a Registered Nurse for more than 40 years, she has a Critical Care Nursing Certificate, a Bachelor Degree in Education, and a Master of Business Administration. Alison has held senior executive roles in government and health services within Victoria including the Chief Nursing and Midwifery Officer, Director of Quality, Safety and Patient Experience and Director of Health Emergency Management.
She has received a number of awards including a Public Service Medal in June 2021 for outstanding public service to driving the Government's national health response priorities during the COVID-19 pandemic, particularly to infection prevention measures, a National Emergency Medal in recognition of service following the 2009 Victorian Bushfires and, in 2021, a Humanitarian Overseas Medal.


Mish Hill,
Chief Nursing and Midwifery Officer, NT Health
Mish Hill is the Chief Nursing and Midwifery Officer of the Northern Territory and has been in this role since September 2020 whilst continuing in her nominal role as the Executive Director, Nursing and Midwifery across the Top End regions until 2022.
Mish is a Registered Nurse and Midwife who holds a Master of Science (Midwifery). Mish has worked in remote and regional services across Australia, and several overseas countries. Prior to joining NT Health, Mish successfully contributed to roles at Hamad Medical Corporation, Qatar which encompassed 15 hospitals, as well as Mater Health Services, QLD. In addition, since commencing at NT Health, Mish led the accreditation of Top End Health Services, established the Assistant in Nursing/Midwifery models of care, supported the NT-wide sepsis initiative, and currently has the portfolio of the NT and Top End Clinical Excellence and Patient Safety services.
Mish is an energetic, pro-active, and committed health care leader. Mish is focused on strategically planning and executing continually improving systems and processes, to ensure effective, accessible, safe, and compassionate person centred care.
Anthony Dombkins,
Chief Nursing and Midwifery Officer, Australian Capital Territory Health
Until appointed the ACT Health Chief Nursing and Midwifery Officer in January 2020 Anthony Dombkins was the Director of Nursing and Midwifery, at Northern Sydney Local Health District.  Anthony Dombkins graduated as a Registered Nurse in 1987 and holds postgraduate clinical certificates in Renal and Transplantation Nursing and Intensive Care Nursing, as well as a Masters, Health Management (UNE).  Anthony Dombkins has held a variety of senior health management positions within the public and private health sectors across NSW.   In June 2014, Anthony Dombkins was appointed an Adjunct Professor – Nursing with the University of Sydney and the Australian Catholic University.  Anthony Dombkins was a member of the Clinical Excellence Commission Advisory Board and a Board Director for Stewart House.

Title
Overcoming Nursing & Midwifery Workforce Challenges Forum
Speciality Classification
Provider Type
Education Provider
Venue
Balcony Level, Cockle Bay Wharf, Darling Park NSW 2000