<- Back
Psychological Aspects of Adjustment to Injury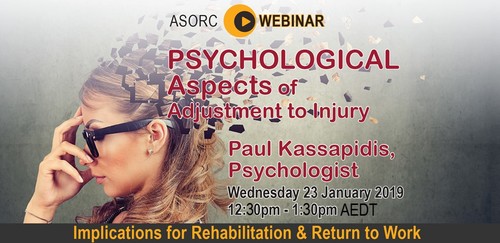 Speciality Classification
Counselors
Provider
Australian Society of Rehabilitation Counsellors Ltd. (ASORC)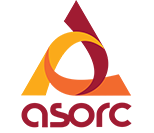 Key learnings:
Psychological responses that occur following an injury, using examples
Importance of accurate diagnosis in management of the injury and how do patients identify with the diagnosis
Importance of accurate language used to communicate injury details and prognosis to patients
Why some primary psychological injuries don't recover in time
The role of psychological component with respect to physical injuries that don't recover in time
The message for Rehabilitation Counsellors in managing patients who are not adjusting well to the injury
Psychological Aspects of Adjustment to Injury - Implications for Rehabilitation & Return to Work, will be presented by Dr Paul Kassapidis, an experienced Psychologist and owner of Paul Kassapidis & Associates.
Paul is a Psychologist in full time private practice and visiting Clinical Tutor to the School of Medicine, Flinders University. He is a full member of the Australian Psychological Society (APS) and a Fellow of the Institute of Private Practicing Psychologists (IPPP) SA Branch. He is also a qualified Social Worker and NAATI Qualified, Level 2 Interpreter in Modern Greek. He began his career in the Department of Correctional Services where he established the Community Service Order scheme in Adelaide and Murray Bridge in 1984. He then became a Probation and Parole Officer before moving into hospital Social Work where he established the Critical Incident Debrief program for the Emergency Services Department of the Queen Elizabeth Hospital.
Paul became a registered psychologist in 1992 and worked at the University of Adelaide's Counselling Centre where he established a number of programs that included the first Male Survivors of Sexual Abuse program within a tertiary setting; the Tertiary Counsellors Professional Development Forum, a Dyslexia support Group for Undergraduates and the University of Adelaide's Critical Incident Debriefing program. He commenced full time private practice in 1996 and has extensive experience across health, welfare, education and management sectors specialising in trauma psychology, work injury management, and migrant mental health. His qualifications are: BA (Hons)., B.Soc.Admin., Grad. Dip. Comm.Langs.
Title
Psychological Aspects of Adjustment to Injury
Speciality Classification
Interest Areas / Topics Covered
Mental Health
Provider Type
Education Provider
Similar Listings
Posted By International Paramedic College
Posted Date: 2021-01-07
Location:Online
About this course This course is designed to equip participants with knowledge and skills to work...
Posted By Health and Harmony Colleges
Posted Date: 2021-01-07
Location:Online
Learn how to expand on communication and listening skills