<- Back
Wound Closure for General Practitioners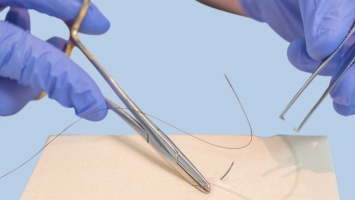 Speciality Classification
General Practice ( GP ) / Family Medicine
Provider
The Benchmarque Group

Course overview
The Course in Wound Closure develops the knowledge and skills required for Nurses, GPs and relevant Allied Healthcare Workers to safely assess the need for, and perform, wound closure in a variety of settings.
COURSE OUTLINE
As part of this one-day course, you will have the opportunity to explore a range of wound closure and suturing methods and learn the unique benefits and limitations of each wound closure and suturing technique that must be considered in each individual case.
Students are equipped with a Limbs and Things Suture Tutor Plus Hands-on Kit at each face-to-face workshop. The kit contains skin pads, knot tying kit, and a range of equipment used to explore different wound closure techniques. This kit is for students to take home to help reinforce knowledge and support transition into practice.
LEARNING OUTCOMES
At the successful completion of the Course in Wound Closure, students will have the knowledge and skills to determine the best wound closure technique for each situation to achieve durability and simplicity.
Students will develop the ability to close wounds using a variety of methods and materials including sutures, skin staples, tissue adhesive and adhesive strips.
DELIVERY
Online assessment completed via our online learning management system accessIQ
One-day face-to-face workshop
In-class activities assessed by a qualified assessor
A mandatory observed workplace activity.
Available workshop locations
The Course in Wound Closure requires you to complete a 1 day face-to-face workshop. Below are the current available workshop dates, which you will be able to select once you have completed the online component. It's handy to note though, once you click 'Apply Now' you can start the online learning now even if there is not a workshop date that suits you. The 'Apply Now' button will take you to accessIQ, our online learning and assessment platform. Simply log in using your existing details or create a new account, and then follow the prompts to apply. Once you are in IQ, please make sure you add both the online and workshop component to your cart. you will see instructions on how to do this towards the top of the page. Happy learning!
MAROOCHYDORE QLD
Maroochy RSL, Maroochydore
08 June 2021
8:45AM - 4:30PM
Workshop full
Waitlist available
GLADSTONE QLD
Yaralla Sports Club, Gladstone
12 June 2021
8:45AM - 4:30PM
ROCKHAMPTON QLD
PHN Central Queensland, Rockhampton
14 June 2021
8:45AM - 4:30PM
EIGHT MILE PLAINS QLD
Glen Hotel, Eight Mile Plains
16 June 2021
8:45AM - 4:30PM
Workshop full
Waitlist available
BRISBANE AIRPORT QLD
Brisbane Airport Conference Centre
21 June 2021
8:45AM - 4:30PM
2 places
remaining
ROYSTON PARK SA
AMPHEaT (Health Education and Training), Royston Park
23 June 2021
8:45AM - 4:30PM
1 place
remaining
PARKVILLE VIC
The Larwill Studio, Parkville
25 June 2021
8:45AM - 4:30PM
PARRAMATTA NSW
Novotel Parramatta, Parramatta
08 July 2021
8:45AM - 4:30PM
2 places
remaining
PARRAMATTA NSW
Novotel Parramatta, Parramatta
12 July 2021
8:45AM - 4:30PM
SYDNEY NSW
Mercure Sydney, Sydney
15 July 2021
8:45AM - 4:30PM
SYDNEY NSW
Mercure Sydney, Sydney
16 July 2021
8:45AM - 4:30PM
MOUNT GAMBIER SA
The Henty
06 August 2021
8:45AM - 4:30PM
ADELAIDE SA
Rydges Adelaide
09 August 2021
8:45AM - 4:30PM
BENTLEY WA
Technology Park Function Centre, Bentley
06 September 2021
8:45AM - 4:30PM
BUNBURY WA
Mercure Sanctuary Golf Resort, Bunbury
14 September 2021
8:45AM - 4:30PM
EAST PERTH WA
Crowne Plaza Perth, East Perth
22 September 2021
8:45AM - 4:30PM
Entry Requirements / Prerequisites
* Registered Nurses
* Enrolled Nurses
* General Practitioners
* General Practice Registrars
* Others on application

Title
Wound Closure for General Practitioners
Speciality Classification
Provider Type
Education Provider