<- Back
Graduate Certificate in Surgery
Speciality Classification
Medical Doctors
Duration
6 months full-time / 1 -2 years part time
Provider
the University of Sydney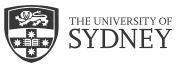 Overview
Our flexible Graduate Certificate in Surgery will allow you to pursue your interests and develop knowledge and skills in surgical specialty areas as well as non-technical areas such as professionalism, leadership and research.
100% online course delivery
This course is offered through our interactive online learning environment, giving you the flexibility to tailor your study schedule around your lifestyle.
All stream specific units are online, with the exception of microsurgery.
You may find however; a couple of electives do have a face-to-face component. These can be avoided depending on your individual preferences.
Why study with us?
As a surgery student, you will learn from highly regarded clinicians and academics at the Sydney Medical School.
We provide thoughtful, structured online learning that will influence your practice by enhancing your understanding of evidence-based medicine and improving your clinical decision making.
Our course can help you prepare for the GSSE.
Who should study this course?
Medical graduates and surgical trainees who want to:
Prepare for the RACS GSSE.
Enhance their CV for furture career opportunities.
Acquire important and sought after knowledge and skills –valuable for an academic or teaching hospital career including basic subspecialty knowledge, critical thinking and critical appraisal.
Course details
Faculty/University School: Faculty of Medicine and Health
Credit points required: 24
Course abbreviation: GradCertSurg
USyd code: GCSURGER2000
UAC code: N/A
Study mode: Online/Intensive
Study type: PGCW
Location: N/A
Duration full time: 6 months
Duration part time: 1 -2 years
What you'll study
The Graduate Certificate in Surgery requires the completion of 24 credit points of surgery selective units of study.
Title
Graduate Certificate in Surgery
Speciality Classification
Duration
6 months full-time / 1 -2 years part time
CPD Points
Credit points required: 24
Price Details
Tuition Fee for Domestic Students (Year 1): $18,000 (indicative only)
Tuition Fee for Domestic Students (Year 1): $18,000 (indicative only)